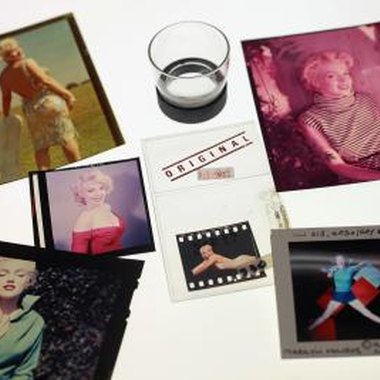 Introduce pure Hollywood glamour into your bedroom design with a Marilyn Monroe theme. Choose your favorite images of Marilyn (pop art or photographs) to include in your design scheme. With a shimmering silver color palette, a photo wall, satin bedding and glam details you can transform an ordinary bedroom into a space Marilyn herself would've been proud to sleep in.
Bedding and Drapery
Layer silver and white bedding with shell pink or lavender hues to create texture and imbue a sense of luxury. Patterns such as gingham, polka dots and damask will create a visually appealing contrast when set against silver satin sheets. Look for a snow white throw with sparkly beads for the end of the bed. Repeat the accent color (lavender or shell pink) in the drapery. Opt for a sheer white curtain beneath flowing silk drapes. Add a matching valance to the top of the curtains.
Decor
Begin with a wall treatment in your chosen color palette. For example, paint the walls a light shade of silver with a glossy overlay in a strip pattern. As light hits the walls they'll look striped. Alternatively, wallpaper the room (or choose one feature wall) in a muted graphic print such as floral or damask. A white throw rug, Marilyn Monroe bedside lamps and a silk button-tufted headboard are ideal options for this style of bedroom. Install an oversized ornate mirror on one wall.
Furniture
Choose furniture with interesting silhouettes for the Marilyn Monroe room. Bedside tables with curvy legs, a dressing table with glitzy jewelled knobs and a mirror dresser or armoire are elegant matches that will provide shimmer and polish to the finished space. Include an antique chair for the corner of the room. Have the chair refinished (think high-gloss black for the arms and legs, reupholstered in a lip print fabric), then place it in a corner beneath a lamp with a stack of Marilyn-related reading material.
Art and Accessories
Put together a floor to ceiling photo wall of your favorite Marilyn prints, photos and movie posters. For this particular color scheme stick to black and white photos, but for another scheme color photos may be welcome. Include a range of images large and small in frames painted silver or white to unify the look. Have Marilyn's face laser engraved on jars to hold makeup and jewelry. Place any additional photos in tiny bejewelled frames set on the nightstand or dressing table. You may wish to design a room divider or dressing screen with full length images of Marilyn on each panel.
Photo Credits
Oli Scarff/Getty Images News/Getty Images