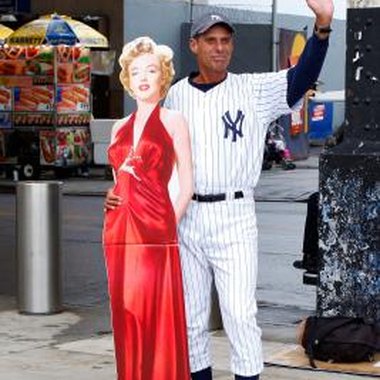 Marilyn Monroe was a beautiful model-turned-actress. She died in 1962, but she has become such an indelible and much-celebrated part of pop culture that she is still well-known today. A few Marilyn Monroe games, whether at a party or just as something to do with your friends when bored, provide hours of entertainment.
Singing
Marilyn sang in most of her movies, resulting in a number of popular tunes. Set up a karaoke contest using her hits. There are plenty to choose from, including "Diamonds Are A Girl's Best Friend," "Heat Wave," "A Man Chases A Girl," "After You Get What You Want," "Ladies of the Chorus," "Bye Bye Baby," "That Old Black Magic," "One Silver Dollar," "I Found a Dream," "Let's Make Love," "Some Like It Hot" and "A Fine Romance."
Clothes
Have a Marilyn Monroe costume contest. The picture of her in a white dress as air from a subway grate blows up the skirt shows what is perhaps her best-known outfit, but Marilyn loved any and all pretty, form-fitting gowns. For example, the slinky, flesh-colored rhinestone-studded gown she wore to sing "Happy Birthday, Mr. President" to John F. Kennedy is also famous. There are plenty of shots of her in cute casual outfits. Contests participants can find pictures in books or online. They must bring the photo showing their outfit, and judging will be based on who best recreated the look, from clothes to shoes to jewelry.
Doppelganger
Have a Marilyn Monroe lookalike contest. No costumes necessary; this contest is all about the hair and makeup. Everyone can participate, girls and silly guys alike, whether they actually physically resemble her or not. Give everyone thirty minutes to style their hair -- or put on and style their wig -- do their makeup and apply lashes and all the finishing touches. Then reference several pictures of Marilyn to see who most successfully achieved her glamorous looks. As a souvenir, take pictures of everyone for them to laugh over and show others.
Facts
Play a game to see who's the most knowledgeable Marilyn Monroe scholar. Research facts from her life and play a game of trivia. Turn it in to a drinking game, use flash cards, follow a Jeopardy format or play however you choose. Include such information as her real name, her birthday and birth place, the men she married, movies she was in and other stars with whom she acted.
Photo Credits
Jeff Zelevansky/Getty Images Sport/Getty Images