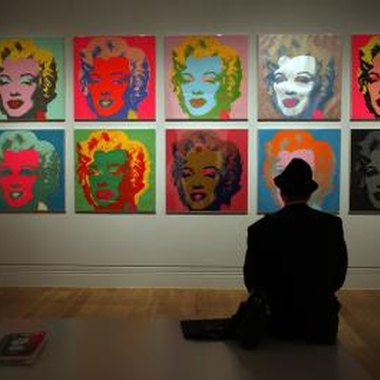 Born in Los Angeles in 1926, Norma Jeane Baker spent much of her childhood in the California foster care system. During the 1940s, before she was known as Marilyn Monroe, she worked in a Burbank munitions factory while dreaming of becoming a star. By the time she died in 1962, Monroe was an international celebrity. In 1999, Time magazine named her to its list of the 100 most important people of the 20th century.
Movies
Monroe's movie career began in 1946 with a contract from 20th Century Fox that paid her $145 a week. She appeared in 29 films, but her roles as a breathy, blond bombshell in light comedies of the 1950s, such as "Gentlemen Prefer Blondes," "How to Marry a Millionaire" and "The Seven Year Itch" made her a star. When Monroe grew tired of these roles, she moved to New York to study at the Actor's Studio with Lee Strasberg; she was nominated for a Golden Globe for her first role under his tutelage, a singer in a Phoenix cafe in "Bus Stop" in 1956. She won the Golden Globe for 1959's "Some Like it Hot," the comedy co-starring Tony Curtis and Jack Lemmon as musicians on the run from the mob. Her last film, which was also the last film for co-star Clark Gable, was the "The Misfits" in 1961.
Model
Before she was a movie star, Monroe was a successful model. Her first photo shoot was at the age of 19 when photographer Andre De Dienes took her on a five-week road trip through New Mexico, Nevada and California. Monroe worked with De Dienes until 1953. Photographer David Conover called Monroe "a photographer's dream come true." He was shooting for "Yank," the Army's weekly magazine, in 1942 and eventually helped the young factory worker get other modeling jobs before she caught the eye of movie studio executives. She was the first "Playboy" centerfold in 1953 and, in tribute to her standing as one of the most photographed women in history, her photo is on the cover of the National Portrait Gallery's "The World's Most Photographed."
Marriages
Monroe was married three times, although fans may be more hard-pressed to remember the name of her first husband than those of her other two husbands. In 1942, when Monroe was 16, she married her neighbor, 21-year-old Jim Dougherty. Soon after his return from the South Pacific in 1946, Monroe divorced the merchant marine. Recently retired New York Yankee legend Joe DiMaggio married Monroe in January 1954. The marriage lasted only nine months, largely due to DiMaggio's unhappiness with Monroe's career and his preference that the blond movie star settle down and be a housewife. Two years later, Monroe married Pulitzer Prize-winning playwright Arthur Miller, but they divorced in 1961 as Monroe's behavior became increasingly erratic.
Her Death
Monroe died on August 5, 1962, at the age of 36, soon after she had been fired from the set of "Something's Gotta Give" for excessive absences. She was found in her Los Angeles home with an empty bottle of sleeping pills nearby and 14 other medicine bottles on her nightstand. While officially ruled an overdose, there was some speculation that her death was not an accident. According to the Washington Post, rumors that Monroe was romantically linked to President John Kennedy and possibly his brother, Robert, lead some to believe, including author Norman Mailer, that the CIA or FBI ordered Monroe's murder to embarrass the Kennedys. These allegations have never been confirmed.
Photo Credits
Peter Macdiarmid/Getty Images Entertainment/Getty Images