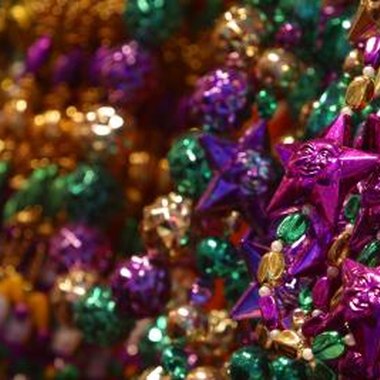 A celebration of life before Lent, Mardis Gras festivities have gained immense popularity in the United States. One of the most famous places to celebrate is in New Orleans, with floats, music and entertainment that are famous worldwide. But the rest of Louisiana features its own kinds of celebrations, including the Carlyss Trail Ride in Sulpher. As the only well-known community Mardi Gras trail ride in the state, it has a rich heritage and 25 years of staying power.
Carlyss Trail Ride Background
The year 2011 marked the 25th anniversary of the Carlyss Trail Ride in the West Cal area of Sulpher, Louisiana. Sponsored by the Calcasieu Parish Sheriff's Office, the event has been gaining notoriety and crowds since inception. This family-oriented event hosts all sorts of trail riders, from non-decorated riders to those in full Mardi Gras regalia. The trail ride also welcomes traditional floats, many of which blast music and feature outrageous--and sometimes cheesy--decorations and costumes. According to event organizer Cyndie Seaford, the event typically draws about 200 horses and 90 different floats, though all who show up are welcome to participate.
Lots of Gumbo
Another highlight for this annual event is the food. The Calcasieu Sheriff's Office not only helps to sponsor the event, but also lends deputies to cook large vats of gumbo for all participants. Riders and their families are encouraged to stick around after the trail ride to chat, relax and enjoy some fresh-cooked gumbo in costume.
Chicken Run
Another tradition that has gained notoriety over the years is the chicken run. The event basically entails the release of a number of chickens, which participants run after and try to catch. Though traditionally any chicken caught was cooked in the gumbo, these days participants are welcome to take any chicken they catch home.
The Ride
The Carlyss Trail Ride takes place in Sulpher, which is located in southwest Louisiana. It costs just $5 per participant, though children 12 and under can take part for free. The ride begins 8:30 a.m. on Mardi Gras, with lineup starting 6:30 at the north entrance of Arena Road in Sulpher. Trail riders then travel about 13 miles before ending up at the West Cal Arena, where the gumbo feast awaits. During the ride, participants are welcome to throw beads and other throws to spectators, just like in the New Orleans Mardi Gras.
Photo Credits
Hemera Technologies/AbleStock.com/Getty Images