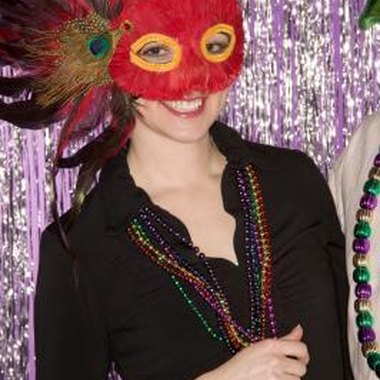 Mardi Gras is synonymous with one, big party, so what better way to celebrate your teen turning 16 than by throwing a Mardi Gras-themed affair. Mardi Gras is usually for adults only, but you can adapt it so your party incorporates an adult air of elegance and sophistication while keeping a teen feel of fun and frivolity.
Sweet 16 Masquerade Ball
Host a refined 16th birthday party with a colorful Mardi Gras theme, like a masquerade ball. Send invitations with synthetic feather or bead embellishments, ask guests to bring a decorated mask and to dress in their most formal clothing, and serve sparkling juice with a Mardi Gras-colored tint. Ask a local caterer to create a large ice sculpture shaped like the number 16 for the center of the table, and serve fare like Creole rice and beans or chicken etouffee while your teen and guests listen to the live jazz band you've booked and head to the dance floor after eating.
Mardi Gras Birthday Float
Make your teen feel like royalty by creating a Mardi Gras float. Get a wagon large enough for your teen to ride in, and cover it with green, purple, and gold crepe paper; Mylar balloons in coordinating colors; and garland. Attach posters to the sides of the float that say, "Happy birthday (guest of honor)," and have your teen sit in the wagon so her siblings or close friends can give her a grand entrance by wheeling her into the party. Alternately, you can simply decorate a place of honor for your teen by decorating a special chair where she can sit to open presents and oversee the festivities.
Party Menu
Serve traditional New Orleans fare, like gumbo or jambalaya in purple or gold bowls. Present guests with sweet snacks like beignets sprinkled with colored sugar. For dessert, serve the guests a king cake iced with green, purple, and yellow icing; as a variation on Mardi Gras tradition, place a small plastic charm shaped like the number 16 instead of the small plastic baby that is usually hidden in the cake. Cut the king cake, and give the guest of honor the piece with the charm inside to officially make him king of Mardi Gras.
Party Favors
Send your guests home with decorative favors that will remind them of the greatest party of the year. For instance, allow guests to take the many strings of Mardi Gras beads you've used to decorate the party site. Choose beads in colors other than the traditional Mardi Gras shades (purple, green and gold) to reflect your teen's favorite hues. Or give everyone moon pies iced with the words "(guest of honor)'s 16th birthday." You can also take green, gold, and purple mugs to the local print shop and have the words "Thanks for coming to my 16th birthday celebration!" engraved on the cups. Fill the mugs with color-coordinated candies to give guests.
Photo Credits
Jupiterimages/liquidlibrary/Getty Images