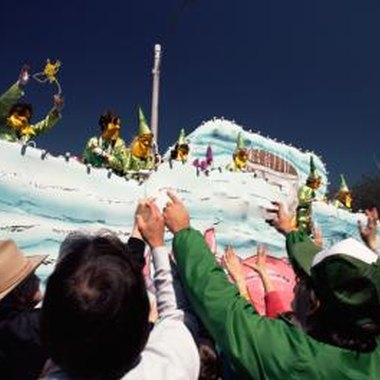 Since 1874, Pensacola Beach, Florida has been home to vibrant Mardi Gras celebrations. As the festivities have grown, the city and local businesses have developed four separate parades for people of all ages. Each parade is held on a different day of the Mardi Gras period, as well as different times, providing visitors with even more opportunities to share in the fun.
The Downtown Grand Parade
The penultimate parade of the festival season is the largest of all. For over two hours, various krewes provide free entertainment. Krewes are private organizations whose members stage Mardi Gras festivities. This parade ends up in the historic Seville Quarter, a former tobacco warehouse converted into a haven for clubs, pubs and cafés, where more Mardi Gras activities await revelers. This parade marches through downtown Pensacola.
The Downtown Illuminated Parade
Organized by the Krewe of Lafitte, the illuminated parade is the only nighttime parade of the Mardi Gras season. The krewe, named after the Louisiana pirate Jean Lafitte, is one of the largest all-male Krewes in Florida and utilizes a pirate theme. The illuminated parade occurs the night before the grand parade. Many members of the Krewe of Lafitte also participate in other parades, including the Pensacola Christmas parade and the downtown parade.
The Kids and Kritters Krawl
Held at the beginning of the Mardi Gras season, the Kids and Kritters Krawl invites children and their pets to put on costumes and walk down Pensacola Beach. The event starts earlier than most of the other parades, usually beginning at 11:00 a.m. Children can participate for free but a fee must be paid for each pet entered into the parade. It is organized by the Krewe of Wrecks.
The Beach Parade
Spearheaded by the Krewe of Wrecks, the beach parade is the last parade of the Mardi Gras season. Unlike the illuminated and grand parades, this procession brings Mardi Gras to the nearby white sands of Santa Rosa island. The beach parade was established in 1980 and so far, as of 2011, it has not ever been rained out. Many members of traditional krewes, such as Lafitte, are also members of the Wrecks krewe.
Resources
Photo Credits
Jupiterimages/Photos.com/Getty Images