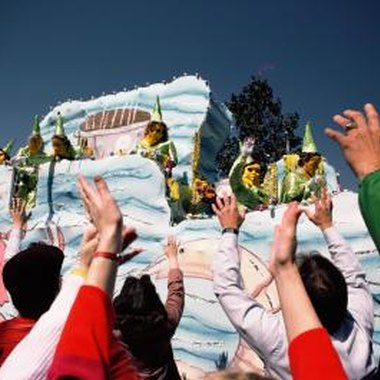 A major holiday in France during the Middle Ages, Mardi Gras was introduced to the United States during Colonial times by the French. Translated as "fat Tuesday" in English, Mardi Gras is a festive public gathering at which large crowds drink, dance and enjoy parades. While the most famous Mardi Gras celebration in Louisiana is held in New Orleans, there are others -- including parades in Houma -- that should not be missed.
When
Though the date changes each year, Mardi Gras is a French Catholic tradition celebrated annually on the Tuesday before Ash Wednesday. In 2012, Mardi Gras will be celebrated on Feb. 21, and Houma's festivities will begin at 11 a.m. Don't miss the two weeks preceding the main Mardi Gras event, when the best Carnival clubs or krewes in Terrebonne Parish show off their costumes in a series of exciting parades.
What
Second only to New Orleans' in size, Houma's Mardi Gras celebration features an assortment of the best area high school and military bands. Judges along the parade route add drama to the event, as they decide which of the competing bands will win prizes such as cash and an invitation to march in the next parade. According to allaboutmardigras.com, some believe Houma's small-town personality gives its Mardi Gras celebration a distinctively family-friendly feel. Kids are everywhere at the parades and just as likely to toss coveted Carnival beads to you from the floats as their flamboyant elders.
Where to Stay
Located in the Terrebonne Parish, just an hour's drive south of New Orleans, Houma offers a variety of lodging choices. If you're travelling by recreational vehicle and just need a place to park, consider camping at Carriage Cove Mobile Home Park (9240 Park Ave., Houma, LA; 985-872-2756) or Capri Court Campground (105 Capri Court Hwy 316, Houma, LA; 985-879-4288). You can also choose from a selection of Victorian-style bed-and-breakfasts or chain hotels where you can book activities such as swamp tours and excursions to the best spots for Cajun food.
How to Get There
Houma is served by Houma-Terrebonne Airport, located three miles from the center of Houma. Though 55 miles away, Louis Armstrong New Orleans International Airport in Kenner also serves the Houma area. If you're coming by train, arrive at the Schriever Amtrak station, just 10 miles from Houma's downtown business district. There are an abundance of taxi and limousine companies in the Houma area. If you are driving from New Orleans, take U.S. Highway 90.
Photo Credits
Jupiterimages/Photos.com/Getty Images