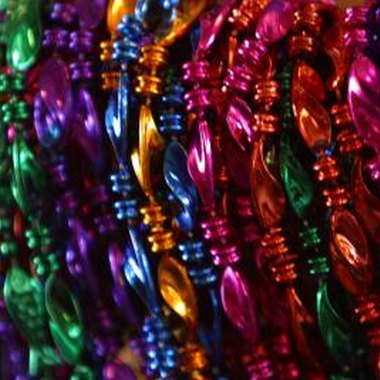 Many people are familiar with Mardi Gras festivals that communities celebrate in Southern states. Some Midwest localities also celebrate a Mardi Gras. In the Middle Ages, Catholics in France observed the Mardi Gras prior to the onset of Lent. French explorers and settlers brought the customs and traditions of the Mardi Gras to their new homes in America. Municipalities, organizations, businesses and individuals throughout the United States organize local Mardi Gras festivities.
Chicago
Chicago Mardi Gras celebrations take place in neighborhoods throughout the city. Chicago's Mardi Gras mostly centers in the bars and pubs of Uptown, Downtown, Lincoln Park, Bucktown and Lakeview. The Mardi Gras celebrations in these sites include special alcoholic drinks, New Orleans jazz and blues music, Cajun food and Mardi Gras delicacies such as jambalaya and kings cakes as well as a lot of good cheer. Many of the Chicago Mardi Gras celebrations center around Division Street including the Bootleggers' (no website; 11 West Division St., Chicago; 312-266-0944) annual "New Orleans Dance Off," a Mike and Joe performance at The Original Mothers (rushanddivision.com) and a Division Street parade, led by the BS Brass Band and accompanied by costumed participants.
Cleveland
South-American themed restaurants in Cleveland offer Mardi Gras food and drink in various Cleveland neighborhoods. Sergio's Sarava (sergioscleveland.com), a Brazilian restaurant, serves Mardi Gras food and drink specials on "Fat Tuesday" featuring the Brazilian dessert specialty, batidas. Paladar (paladarlatinkitchen.com) invites guests to join them for their Mardi Gras party that closes their three-week Mardi Gras celebration with wine, music and plenty of mojitos and caipirinhas. Paladar distributes Mardi Gras masks to restaurant guests. Salmon Dave's in Rocky River (19015 Old Lake Rd.; Rocky River, Ohio 44116), 10 miles east of Cleveland, celebrates Mardi Gras annually with creole cuisine, Hurricane alcoholic drinks and a lively evening music lineup.
Michigan
Michigan's Upper Peninsula's Mardi Gras de Snow in Paradise, a town along the Lake Superior coast, provides excitement for Mardi Gras celebrants who want to enjoy the holiday as a family festival in the midst of Michigan's cold winter. The festival includes family snowmobiling, races, kids' games, lots of food and plenty of activities for kids and adults. The festival takes place early in the Mardi Gras season on Friday and Saturday.
St.Louis
Next to New Orleans, St. Louis holds the largest Mardi Gras celebration in the United States. The festival, estimated to draw close to half a million visitors every year, encompasses downtown St. Louis. Pre-Mardi Gras events include wine-tasting, cajun and creole food, pet parades and other activities, which all lead up to the Grand Parade, held on "Fat Tuesday," the day preceding Ash Wednesday. "Krewes," groups and organizations that have floats in the parade, prepare elaborate floats and costumed riders who, in Mardi Gras tradition, throw beads and other "throws" to the watching bystanders.
Photo Credits
Hemera Technologies/AbleStock.com/Getty Images