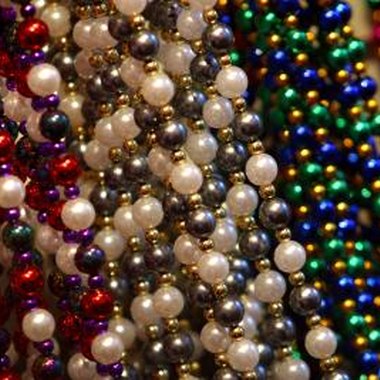 Even though Mardi Gras parades no longer make their way through the French Quarter -- the practice was stopped many years ago due to fire concerns -- the French Quarter still remains the center of the Mardi Gras party. Several streets are completely closed to traffic and at night can become so crowded that they look like rivers of people from the wrought iron balconies above.
Bourbon Street
New Orleans' most famous party street, Bourbon Street is absolutely packed day and night on the weekend leading up to Fat Tuesday and on Luni Gras and Fat Tuesday itself. The street is lined with bars and clubs, many featuring live music and entertainment. On the street itself, alcoholic street vendors sell beer, hurricanes and other tropical cocktails. Beads and other treats are showered down on the crowds from the balconies that line Bourbon street, and since bars do not have to close at any set hour in New Orleans, there is no reason for the party to ever stop.
Decatur Street
Down by the French Market, Decatur Street is another party area that usually caters to a more local crowd, but it becomes a super street festival during Mardi Gras time that all are invited to join. The dive bars that line Decatar usually overflow with patrons during Mardi Gras and here is a good place to rub shoulders with some New Orleans natives. Food stalls in the French Market itself and traditional New Orleans delis also make this area a gourmands paradise. Further down Decatur, where the old warehouse buildings once housed shipping materials and products from around the world, several large discos throw their own private Mardi Gras balls.
Marching Bands
Even though the giant floats and the actual parades themselves do not enter the French Quarter during Mardi Gras, many of the marching bands break off from the parades after they are over and wander about in the Quarter until all hours of the night. Look for tuck-away places like Pirates Alley to catch impromptu musical jam sessions, often accompanied by dancing in the streets.
Costume Awards
One of the features of Mardi Gras in the French Quarter is the elaborate costumes worn by the revelers. Everything from giant butterfly wings to nearly full nudity passes for a costume on the wild nights that lead up to and end on Fat Tuesday. On Fat Tuesday itself, awards are given for the best costumes worm by Mardi Gras attendees. That night, on the corner of Bourbon and St. Ann, a stage is set up so that judges can award those who are brave enough to strut their stuff in front of the live crowds.
Photo Credits
Hemera Technologies/AbleStock.com/Getty Images