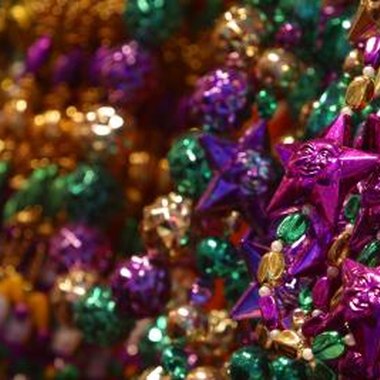 Mardi gras (pronounced "mar-dee graw") means "fat Tuesday," which is the day before Ash Wednesday, the first day of Lent for Christians. It is customary to purge your house of fatty foods for Lent -- thus, why eating calorie-rich foods has become customary. Mardi Gras celebrations take place the entire week before Fat Tuesday, usually in early March. Parades, concerts, drinking and partying are standard Mardi Gras events.
Buffalo
Artvoice, based in Buffalo, sponsored its 16th Annual Mardi Gras Parade in 2011 (stor.artvoice.com/mardigras/). The event is designed as a cultural fundraiser and boasts partnerships with 36 different organizations to host this large party. The parade route is published ahead of time as well as the participating businesses. The money raised at this parade contributes to a nonprofit that supports cultural organizations in the county. The day also includes jazz performances and New Orleans-style fare at plenty of restaurants.
New York City
New York City sees a wealth of Mardi Gras events hosted throughout the city, including traditional meals, jazz, beaded parties and funky dancing. In 2011, Cafe 92YTribeca (92Ytribeca.org) prepared a red beans and rice meal to the sounds of Louis Armstrong. Beacon's (beaconnyc.com) hosted its 11th Annual Beefsteak meal, complete with bourbon and beer as complementary beverages. If you want to dance to the sounds of classic New Orleans funk, visit the Fifth Annual Nolafunk Mardi Gras Ball at Le Poisson Rouge (lepoissonrouge.com).
Albany
Businesses in downtown Cohoes, a town 11 miles north of Albany, hosted their second annual Mardi Gras Celebration on the Friday before Fat Tuesday. The evening sees a variety of activities, from Cajun dishes served at restaurants to jazz played on the streets. Many of the businesses give away freebies, such as beads and candy. Trolleys transport people around the historic downtown during the event for free.
Rochester
Rochester hosts an annual Fat Tuesday Mardi Gras Celebration benefiting the March of Dimes. The event takes place in the Water Street Music Hall; tickets are $15 when purchased at a ticket distributor and $10 when purchased from a March of Dimes Planning Committee member. This Mardi Gras Celebration features the music of local bands. The event takes places on Fat Tuesday every year and usually runs the entirety of the evening.
Photo Credits
Hemera Technologies/AbleStock.com/Getty Images