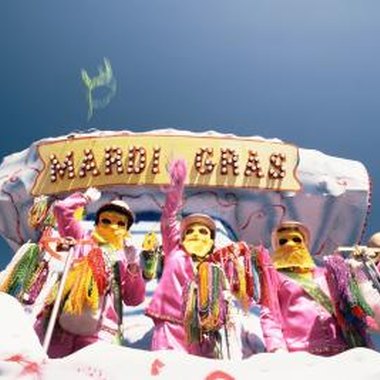 While New Orleans is famous for its celebration of Mardi Gras, it is not the only city that has festivities at that time. The term "Mardi Gras" is French for "Fat Tuesday." It signaled the last chance to enjoy rich foods and alcohol before the fasting required for Lent that would begin the next day, on Ash Wednesday. Mardi Gras is a street celebration filled with music, food, drink, performers and brightly colored costumes, beads and mysterious masks. If you know where to look, you can find a few interesting ways to celebrate a New Orleans-style Mardi Gras in Chicago.
Heaven on Seven
Named for its original location on the seventh floor of the Garland building in the Chicago Loop, Heaven on Seven (heavenonseven.com) has been one of the Windy City's most prestigious Cajun/Creole restaurants since 1985. Owned and operated by chef Jimmy Bannos, Heaven on Seven has one of the most festive and authentic Mardi Gras celebrations in the downtown Chicago area. Bannos kicks off the annual celebrations the weekend before Mardi Gras with live music and a special menu, including king cakes flown in from New Orleans. These traditional cakes have trinkets baked inside. It is said that the diner who finds one will have good luck the rest of the year. Prizes are awarded to those who find the trinkets.
"Bourbon St." Festival
The "Bourbon St." Mardi Gras festival takes place in Chicago's Rush and Division nightclub district. The Lodge Management Group, operators of such clubs as Mother's, Bootlegger's and She-nannigans House of Beer, coordinates the event, which is hosted by eight of the corporation's most popular nightclubs, all located on the same block. Costumed musicians and stilt-walkers stroll the avenue, juggling, tossing beads and filling the cool February air with the sounds of New Orleans as Rush and Division becomes "Bourbon St." for one extended weekend through Fat Tuesday. Keeping with the festive theme, all the clubs on the block host Mardi Gras masquerade parties and events featuring live entertainment, contests and food and drink specials.
Concept Restaurants and Nightclubs
Whether you are partying in the city or suburbs, you can enjoy a festive Mardi Gras at many of Chicago's specialty restaurants and nightclubs with Louisiana themes. Just 30 minutes out of Chicago in Merrionette Park is 115 Bourbon Street (115bourbonstreet.com), a full-service bar, restaurant and entertainment venue specializing in New Orleans-style cuisine. In North suburban Morton Grove, Crazy Jaws (crazyjaws.com), a Louisiana-inspired bar and grill, offers authentic Cajun and Creole delicacies and live blues music. In downtown Chicago, you can experience the flavor of Mardi Gras at Big Jones (bigjoneschicago.com), where the New Orleans-inspired menu items include crawfish, gumbo and jambalaya.
Mardi Gras Accessories
Many Mardi Gras enthusiasts enjoy wearing colorful costumes, flashy beads, wigs, hats and masks when celebrating Fat Tuesday. Whether you are gathering in one of the Windy City's premier Louisiana restaurants, living it up at a street festival or hosting your own private Mardi Gras celebration, the right costume and party supplies can help create a festive ambiance. Fantasy Costume Headquarters (FCH) (fantasycostumes.com) is Chicago's largest costume and party supply retailers and provides Mardi Gras accessories to bars, restaurants, event coordinators and individuals. FCH has an extensive array of beads, costumes, harlequin masks, jester hats, tinsel wigs, boas and other Mardi Gras party supplies.
Photo Credits
Jupiterimages/Photos.com/Getty Images