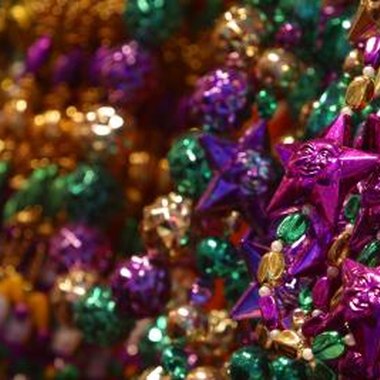 Mardi Gras originated as a celebration dedicated to enjoying the pleasures in life before giving it all up for Lent. While the religious connotation may not be applicable to all who partake, Mardi Gras, or Fat Tuesday, remains a grand celebration of excessive eating, drinking and just having a good time. The Mardi Gras parade in Burlington, Vermont, is an annual event that lets Vermonters and visitors enjoy the festivities.
Basic Information
The Mardi Gras parade, hosted by Magic Hat Brewing Company, takes over the streets of downtown Burlington every winter right before Lent. While the exact date changes each year, the excitement and jovial spirit does not: year after year, the sidewalks are packed with families and friends; young and old. The parade starts late in the afternoon, but the fun begins at noon with performances, a Mardi Gras costume contest and other festive events.
The Parade
The Mardi Gras parade features a variety of interesting floats made by members of the community. A wide range of people participate in the parade from local businesses to peaceful protesters from school children to flamboyant drag queens. While taking in the colorful costumes and flashy floats, get ready to catch some Mardi Gras beads and other treats. People on the floats toss handfuls of purple, gold and green beads, Moonpies and sweets from Lake Champlain chocolates.
Location
The Mardi Gras parade route makes its way through downtown Burlington. The route starts at South Winooski and Main Streets, makes its way through Church Street and finally ends up at Battery street. The Church Street marketplace boasts a variety of shops, a range of restaurants from sushi places to pizza joints, and several pubs and bars. This prime location provides a place for cold parade watchers to warm up with some hot chocolate, grab a bite to eat or celebrate after the parade is over.
Planning for the Parade
To avoid the hassle of finding a parking spot downtown, catch a free shuttle that transports parade-goers from the Burlington High School, the Magic Hat Brewery and Pearl Street to Church Street. Let the little ones get a better view of the parade and avoid the crowd by watching the parade from special family viewing areas. Families with children under 10 years old can view the festivities from the Little Jambalaya Viewing Zone on the north side of Main Street between South Champlain and Battery Streets. Another special viewing zone at the intersection of Church and Main Streets is dedicated to individuals with disabilities.
Photo Credits
Hemera Technologies/AbleStock.com/Getty Images