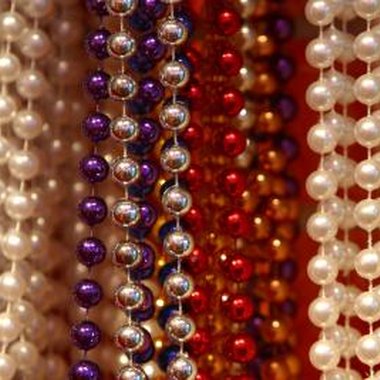 Mardi Gras or "Fat Tuesday" is a celebration that immediately precedes 40 days of Lent. With a long period of fasting to come, Christians traditionally indulged in one final feast before the hard times. The most celebrated Mardi Gras event in the United States takes place in New Orleans, but you will also find parties, events and even a parade in the New York City borough of Brooklyn.
Family Events
The New Utrecht Reformed Church puts on an annual family festival that includes face painters, clowns, magicians and all forms of hands-on activities for kids. Brooklyn usually offers a full slate of live performances at its many museums and music venues on and around the holiday, as well as film screenings, art exhibits and recreational activities. Check with local newspapers and events listings for an up-to-date, detailed schedule of options.
Parade
Brooklyn's Coney Island waterfront has been the setting for an annual Mardi Gras Mermaid Parade since 1983. The crowd usually reaches 250,000 to 500,000 people gathered to see a stream of sights-and-sounds delights -- more than 1,500 participants in full mermaid and merman regalia, classic vehicles, miniature parade balloons and a marching band or two. The parade is not monitored by any official governing body, so anyone who wishes to march in the parade may do so for a minimal entry charge. The result can be interesting, risque and occasionally inappropriate for young kids, so take that into account if you plan to attend.
Special Events
Brooklyn is home to all forms of private-party events and independently promoted events on Mardi Gras. You can find warehouse parties set in the heart of the borough and jazz festivals in downtown government buildings. After the Hurricane Katrina destruction in New Orleans, several charity events have sprung up. For example, Mardi Gras Brooklyn puts on a live concert featuring local performers to raise money for Habitat for Humanity in the New Orleans area, and Feed the Starving Artists throws a warehouse party to raise money for struggling artists in Louisiana.
Bars & Clubs
A series of Mardi Gras balls takes place throughout New York City, with some key destinations in Brooklyn. Williamsburg is a neighborhood that has gone from a mainly Jewish and European immigrant population during the early 1900s to a largely Hispanic immigrant population in the late 1900s to a young urban professional and hipster population in the 2000s. With this transformation has come a selection of trendy bars and clubs, each looking to outdo the others with special events and celebrations. For example, d.b.a. Brooklyn has drink specials and local beer on tap for the big night, and Loreley splits Mardi Gras weekend between its Manhattan and Brooklyn locations with German music on Thursday, live music on Friday and screenings of Germany's Mardi Gras parades on Saturday.
Photo Credits
Hemera Technologies/AbleStock.com/Getty Images