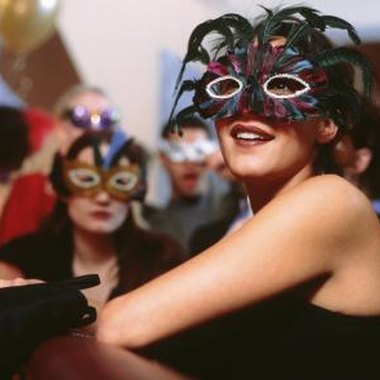 Let guests know that your birthday party will have a Mardi Gras theme with fun wording on your invitation. Decide first how you will incorporate elements of Mardi Gras into your birthday party. Whether it's a formal affair or a backyard crawfish boil, let the wording of your invitation set the tone for the celebration.
Masquerade Party
If you are planning a Mardi Gras masquerade birthday party, let your guests know to wear their masks. The traditional of formal Mardi Gras balls can inspire the invitation's wording. For example: "You are invited to a Masquerade Ball in honor of Jeanine LaRue's birthday. Join us for cocktails, dinner and dancing. Don't forget your mask!" Then include the date, time and location of the party. You could also word your invitation like this: "Life's a masquerade and Jill wants to have a ball! Join us for a masquerade ball to celebrate her 30th birthday!"
All About the Food
Creole and Cajun food go with Mardi Gras. If you are having a birthday party with a lot of New Orleans-inspired food for guests to sample, let what you're serving guide the wording of your invitation. For example: "It's John's birthday, he wants crawfish and beer. Come on out ... it's a Mardi Gras time of year!" Another option is: "It's a Mardi Gras crawfish boil! There'll be lots of food, and the beer will flow...Come party for Matt's birthday, the crawfish won't know! "
French Wording
Use French phrases on your Mardi Gras birthday invitation in a nod to the cultural heritage of New Orleans. "Laissez les bons temps rouler" is a popular phrase used during Mardi Gras. It means. "Let the good times roll." You could also borrow lyrics from the "Cajun Mardi Gras Song." Begin your invitation with, "Capitaine, Capitaine, voyage ton flag! Lead everyone to Lindsay's 21st birthday party!" The lyrics mean, "Captain, Captain, wave your flag!"
Beads and Booze
A Mardi Gras party for adults wouldn't seem complete without beads and booze. Base your invitation wording around these Mardi Gras mainstays. For example, "Beads, booze and Creole food! Join us in celebrating Dan's 35th birthday, Mardi Gras style!" Or you could write: "We'll be dancing in the streets, beads around our necks, beer in our hands! Join us for Josh's 25th birthday party!"
Photo Credits
Ryan McVay/Photodisc/Getty Images