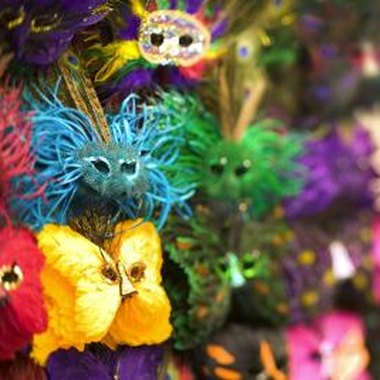 Alexandria, a small city of about 50,000 in central Louisiana, might seem an unlikely spot for a Mardi Gras celebration but nearly 120,000 revelers showed up for the 2011 parade, according to the Alexandria Mardi Gras Association (AMGA). Located on the banks of the Red River about 220 miles northwest of New Orleans, Alexandria's Mardi Gras parades and other festivities draw crowds from all over the central part of the state.
Mardi Gras History
Mardi Gras, which translates as "Fat Tuesday," falls on the day before Ash Wednesday, when the 40-day season of Lent begins. Although closely associated with New Orleans, the first Mardi Gras celebration in North America actually took place in what is now Mobile, Alabama in the early 1700s. Celebrations in New Orleans and elsewhere in Louisiana began in the 1850s and have since spread to all corners of the state.
Mardi Gras in the Heart of Louisiana
"Mardi Gras au Coeur de la Louisiane"--Mardi Gras in the Heart of Louisiana--began in 1994 with a parade of 10 floats and four nonprofit groups called "krewes" that organize and support Mardi Gras celebrations. The Mardi Gras season typically starts on January 6, the Feast of Epiphany. Alexandria celebrates with a gumbo dinner followed by an Epiphany party. Later in January, a Winter Ball is held. The now 25 krewes hold individual balls throughout the period leading up to Mardi Gras weekend. AMGA chooses three people who have demonstrated a positive impact on the quality of life in the community to serve as Grand Marshals of the three parades.
Mardi Gras Weekend
Although Mardi Gras is a legal holiday in Louisiana, Alexandria holds its main parade on the Sunday before Mardi Gras to avoid conflicts with other parades held throughout the state. Festivities begin on the Thursday before Mardi Gras with the Krewe of Antiqua Masquerade Party. On Friday, the Cheerleaders and Classic Car Parade is followed by the Taste of Mardi Gras food event, featuring meat pies, barbecue and other local treats. Saturday events for the kids include a Children's Parade downtown followed by a King Cake party at the Alexandria Zoo. The AMGA Annual Krewes Parade occurs on Sunday, with floats, marching bands and masked horse riders. A tobacco-free, alcohol-free zone set up during the main parade offers a family-friendly environment.
Mardi Gras Traditions
The traditional colors of Mardi Gras--purple for justice, green for faith and gold for power--were selected by Rex, the King of Carnival, in 1872. Today, these colors appear in abundance on floats, costumes, beads, masks and feather boas. Krewe members throw beads, cups, doubloons and other items from the floats. The traditional dessert for Mardi Gras is the King Cake, a ring-shaped cinnamon pastry glazed and sprinkled with green, gold and purple sugar. The person who finds the small plastic doll baked into the cake must buy the next cake or throw the next party.
Photo Credits
Thinkstock Images/Comstock/Getty Images