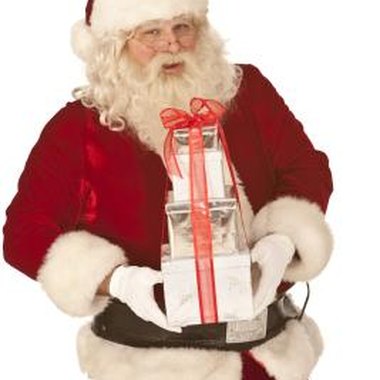 Every year, an estimated 3,000 people head to downtown Mansfield, Texas to celebrate Christmas with the Hometown Holiday parade. The parade features attractions for people of all ages and is the highlight of a weekend full of activities. The weekend-long celebration included a breakfast with Santa, a tree-lighting, fireworks display and, of course, caroling.
When and Where
The Hometown Holiday Parade takes place on a Saturday afternoon each December, usually at the beginning of the month. The parade route starts at St. Jude's Catholic Church, then heads west on Dallas Street, north on Main Street, east on Oak Street, south on Smith Street, east on Broad Street and south on Waxahachie Street, ending back at the church. Parking is available in the St. Jude parking lots and surrounding side streets. Spectators are urged to arrive early to get the best spots.
Participants
The parade is filled with local officials, school children, marching bands and others heading down the street in their holiday best. Cheerleading squads, Boy and Girl Scout troops, military units and others also join the brigade. Local businesses sponsor floats, some of which feature characters from famous holiday stories. The parade ends with a very special visit from a certain North Pole resident.
Pre- and Post-parade Activities
Parade day kicks off with a special breakfast with Santa at the Mansfield Activities Center. Kids meet Santa, tell him what's on their wish list and fill up with a hearty breakfast. Following the parade, revelers can stay downtown and enjoy Christmas carols sung by some of the area's best singers.
Other Activities
While the parade may be the highlight of the Hometown Holiday weekend, there are several other events to fill residents with holiday cheer. On Friday night, city hall transforms into a mountain resort with a hill of real snow for kids and adults to slide down. The night features a visit from St. Nick and culminates with a tree lighting and fireworks show. Sunday features a "Tour of Homes," which allows residents to see at least five fully-decorated homes in the area.
References
Photo Credits
Comstock Images/Comstock/Getty Images