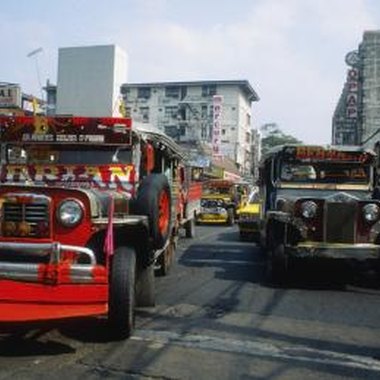 Described by Lonely Planet as a "teeming metropolis," Manila is the capital of the Philippines and is packed with hundreds of years of history and culture. The city is home to over 8 million residents of all faiths, creeds and cultures, making it an exciting place to experience. Though infrastructure problems make Manila difficult to traverse, it provides many rewards for those who persevere.
Manila Cathedral
Several churches have stood on the grounds of the Manila Cathedral (www.manilacathedral.org) since 1571, and it is the center of Catholicism in the Philippines. The current church, located in the city center, replaced one that was destroyed during WWII and is the center of Catholicism in the Philippines. The shell of the former church stood for many years as a stark reminder of the war and its design inspired that of the new church. Shaped like a Latin cross, the cathedral covers nearly 3,000 square meters and is made of marble.
Chinatown
Established in 1594, Manila's bustling Chinatown is home to hundreds of years of history and culture. Welcome arches usher visitors into the district, which is patrolled by elaborately decorated fire engines. Originally restricted to Chinese Catholics, Manila Chinatown opened to all visitors in 1790 and is now a popular tourist attraction. The area is still home to numerous churches, though it also contains many Buddhist monastery temples, reflecting the diverse faiths of its residents. Shops and street signs feature English, Chinese and Filipino script.
National Museum of the Philippines
Dedicated to Filipino culture and history, the National Museum of the Philippines (www.nationalmuseum.gov.ph) was opened in the early 20th century. The imposing building housing the museum was designed by American architect Daniel Burnham for the Filipino congress. The museum contains an array of objects, including crude tools used by early Filipino people and other artifacts which predate Spanish colonists. Visitors can also see objects recovered from the San Diego, a 17th century galleon which sunk while loaded with weaponry, jewels, gold and porcelain.
Manila Hotel
Construction of the Manila Hotel began in 1908 and ended in 1912, and in the nearly 100 years since, it been a site of historical importance. The spacious hotel was designed to resemble a California mission, with white columns and arches. From 1935 to 1941, the hotel was home to General Douglas MacArthur and his wife, and managed to survive WWII, though it was considerably damaged. Visitors can book rooms at the hotel, dine at one of its restaurants or simply explore its grounds.
Photo Credits
Medioimages/Photodisc/Photodisc/Getty Images