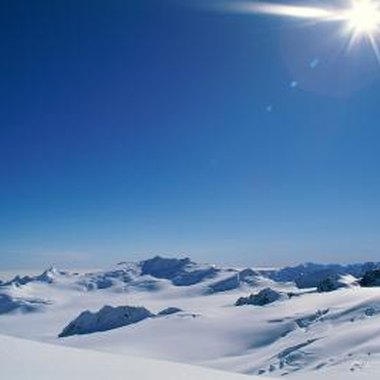 If you want your home to show off the trophies from your intergalactic safari to Hoth, there is no better way than to make your own Wampa trophy rug. Wampas are massive predators found in "The Empire Strikes Back" that roam the icy fields and frozen caves of the planet in search of their next meal. Save money and a trip to the local alien taxidermist by sewing your own unique version of the Wampa ice monster as a rug.
Items you will need
White shag material

Scissors

Wampa reference images

White material

Black felt material

Gray felt material

Sewing thread

Sewing needle

Cotton or wool stuffing

Fabric glue

Pencil
Step

1
Cut a vague Wamapa-shape from the white shag material that is approximately four to six feet long from the tips of its claws to its feet and two or three feet wide. Design the base pattern so the Wampa has two arms, a long torso and two long legs. The final Wampa rug will resemble a bearskin rug in design.
Step

2
Trace the white shag material and make a template using the non-shag white material to use for the underside of the Wampa rug. Line up the two fabric shapes and sew them together, leaving a hole for stuffing. Make sure that the shaggy fur textured fabric is on the outside of the rug by sewing the right sides together. This can be done by using a straight stitch by hand.
Step

3
Fill the Wampa rug with wool or cotton stuffing for a bit of cushion when you rest your feet on it. Sew up the hole afterward with a simple straight stitch.
Step

4
Draw a set of eyes, claws, mouth, teeth and horns onto the black, white and gray felt materials and cut them out. The facial features should be large enough to be in proportion with the head of the rug. Experiment with the design, using either round normal eyes or cartoony x-shaped eyes of a hunted alien creature. Cut the Wampa's claws to be the length of the front of its paw and connect four or five claws on each paw. Its curved horns droop from the base of its skull down to the sides of its mouth. The mouth should be as large as the space left between tips of the two horns.
Step

5
Glue the Wampa's details to its face and hands. Allow the ice beast's features to dry before you use it as a rug.
Photo Credits
Stockbyte/Stockbyte/Getty Images