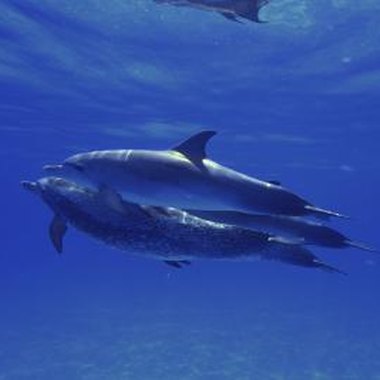 Life under the ocean has always provided a source of mystery and sparked the curiosity of both kids and adults, showcased in popular culture via movies like "The Little Mermaid," "Splash," "Finding Nemo" and "Jaws." Creating a party that feels more like an undersea adventure will inspire the imaginations of children, not only giving them an experience they've most likely never had, but will provide a platform for make-believe games and the opportunity to reinvent themselves as mermaids, fish, dolphins, sharks or a number of other sea creatures.
Items you will need
White slips of paper

10- to 12-inch-high glass bottles

Sand

Aquatic auto-rotating night light

Seashells

Ocean-themed movie

Ocean-sounds recording

Aquatic-themed food or seafood
Step

1
Create a basic invitation on a white slip of paper. Smudge the ink a little, as though the invitation has been wetted by ocean water. Roll up each of the invitations and stick them in glass bottles. Sprinkle a little sand in each glass bottle and replace the cap. Distribute each "message in a bottle" in person to the parents of each invited guest.
Step

2
Dim the lights of the room where the party will be and set up an auto rotation ocean-themed night light. This device will project all sorts of underwater life onto your walls while rotating, giving the whole room a sense of being surrounded by the movement of fish and other aquatic life.
Step

3
Present an ocean- or aquatic-themed movie on silent in the background. Movies like "The Little Mermaid" or "Finding Nemo" are appropriate.
Step

4
Play the sounds of ocean waves in the background to foster the aquatic effect. Purchase or collect seashells of all shapes and sizes and scatter them around the room.
Step

5
Offer ocean- and seafood-themed refreshments, such as crab cakes and shrimp. If you think kids aren't ready yet for seafood, offer them fish-shaped crackers and cookies.
References
"Party Ideas for Children"; Jenny Dodd; 2005
Photo Credits
Jupiterimages/Photos.com/Getty Images