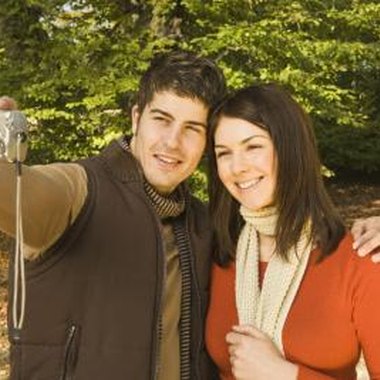 Photo tiles are a simple craft that make a great gift or decoration for your home. You don't have to be an adept crafter to use the decoupage method to put your favorite family photos on to ceramic tiles. The tiles can be purchased loose at a hardware store and other materials needed are minimal. The hardest part is picking the photos with which to adorn the tiles.
Items you will need
Ceramic tiles

Sponge paintbrush

Decoupage medium, such as Mod Podge glossy or matte finish

Photos

Scissors

Brayer (optional)

Ribbons

Hot glue gun
Step

1
Cover the tile with a layer decoupage medium. Use a sponge brush to do this. Make sure the tile isn't oversatured with decoupage medium or this could cause bubbles or uneven spots on the photos.
Step

2
Cut a photograph with scissors to fit the size of the tile. To leave a border, cut the photo a little smaller than the tile.
Step

3
Press the photo on to the tile, making sure it is centered. Gently adhere the photo to the decoupage medium. Smooth out the photo gently with your fingers, or you can use a brayer to do this, which is a tool made for decoupaging to help reduce wrinkles and bubbles. Allow the photo to dry for two hours.
Step

4
Spread decoupage medium over the entire photo and tile with the sponge brush. Go back and forth with the sponge brush making even strokes. Allow this to dry for an hour, then go over the tile again with more decoupage medium. Allow the craft to dry overnight.
Step

5
Tie a pretty ribbon around the tile to add a finishing touch. Add glue from a hot glue gun to secure the ribbon into place.
Tips & Warnings
To further decorate your tiles, use decoupage medium to adhere a scrapbook paper background on the tile before placing your photo on it.
Photo Credits
Jupiterimages/Polka Dot/Getty Images