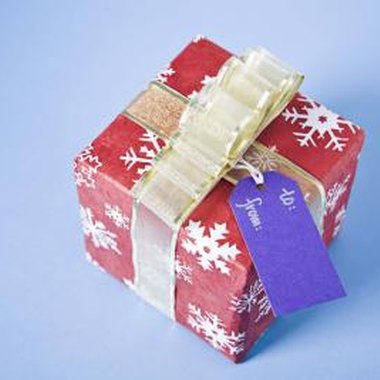 Stacked loopy bows have a tailored appearance that makes them appropriate for men's gifts. Their streamlined shape coordinates well with modern styles of gift wrap. Unlike round bows, they do not crush easily, so they are great for packages that will be shipped. You can make these bows ahead of time and store them, because they stack easily in a small space. Keep bows in several colors on hand for a quick accent on any gift.
Items you will need
Double-sided gift wrap ribbon

Clear tape
Step

1
Wrap the ribbon around your finger to make a loop. Secure the loop by wrapping a small piece of tape around the point where the ribbon touches.
Step

2
Bring the ribbon out 1 inch beyond the loop then fold it back under the loop, creating a 1-inch teardrop-shaped loop on one side of the round loop.
Step

3
Make a loop on the other side in the same way. Hold the center of the bow between your fingers to hold the loops in place.
Step

4
Make a 2-inch loop on each side of the bow in the same way.
Step

5
Wrap a piece of tape under the center of the bow and through the round loop to hold the bow in shape. Cut the excess ribbon off just beyond the tape.
Tips & Warnings
Create a variation on this bow by making only one 2-inch loop and cutting the ribbon on the other side at an angle, 3 inches from the center.

Add more and larger loops for a bigger bow.
Photo Credits
Jupiterimages/Brand X Pictures/Getty Images