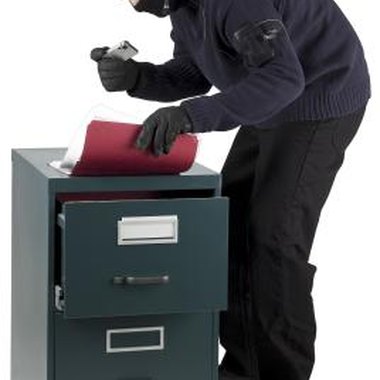 If you want to throw a good birthday party, choose a well-thought-out theme that keeps your guests involved. One great interactive theme is a spy party. To organize a spy party, pay attention to the details, just as a secret agent would. Everything from your invitations to party activities should display a top-secret vibe. Costumes, decorations and role playing will get your guests in the mood to uncover some fun.
Invitations and Attire
Step

1
Cut construction paper to fit inside miniature manila envelopes. Type or write the details of the party, such as the date, time and location, on the construction paper. Include a password for entry. Write this password in code using a font such as Wingdings, and have guests decipher it in order to enter the party.
Step

2
Clarify costume and dress code requirements in the invitation. Suggest fedora hats, fake noses or mustaches, trench coats and sunglasses.
Step

3
Stamp or write "Top Secret" on the back of the envelope in red ink. Address and send your invitations.
Decorations
Step

1
Create a trail of footprints leading into the party. Wear old boots and cover the soles in washable black paint. Leave footprints from the curb up to the door of the party.
Step

2
Draw body outlines in white chalk. Have your child lay down in several places and trace the outline of his body. Have your child strike poses with flailed arms and twisted legs so that each outline is different.
Step

3
Drape caution tape across doorways and along the wall.
Step

4
Tape butcher paper on the walls. Splatter red paint to create blood splatters.
Step

5
Include signs at every door, such as "Top Secret," "Authorized Personnel Only," or "Password Required for Entry." Place a fake thumbprint scanner at doorways.
Party Activities
Step

1
Make a secret agent ID card for each guest. Guests can eat, dance and socialize while waiting for the cards. Take a picture of each guest with a digital camera. Print the picture in a small size on sticker paper. Peel the sticker off and adhere the photo to a blank business card. Have each agent write in her personal information, dip her thumb in ink and provide a thumbprint.
Step

2
Arrange a scavenger hunt. Section spies into teams and have them find strategically hidden items with a list of clues.
Step

3
Play the "Lie Detector" card game from the Disney Family website. Break spies into even groups and seat them at tables. Distribute a deck of cards to each table. Start with whomever has the three of hearts. The player to his right must put down at least one four, or as many fours as he has, face down. If he doesn't have fours, he has to fake it by putting down another card or cards and calling out the number of fours he placed. This game practices keeping a poker face. If another player thinks he's lying, she calls out "Lie Detector." If the player lied, he takes all the cards in the pile. If he didn't, the player who called bluff takes them all. The object is to get rid of your cards.
Party Favors
Step

1
Write the name of each guest on a manilla envelope large enough to fit your goodies. Stamp "Top Secret" on the envelopes.
Step

2
Place cheap plastic sunglasses, disguises such as fake noses and mustaches, toy magnifying glasses, small notepads and other fun items in the goodie bag. Remember that despite the party theme, kids always like candy too.
Step

3
Give the goodie bags to each party guest as they leave. Have guests sign their address and put a thumbprint on a small envelope in exchange for their goodie bag. The guest of honor can use these envelopes to send thank-you letters for gifts.
Tips & Warnings
Flexibility is good for a themed party. Don't structure everything down to the second -- party guests will come up with their own ideas, or want to eat, socialize and relax for some of the time.
Photo Credits
Photos.com/PhotoObjects.net/Getty Images