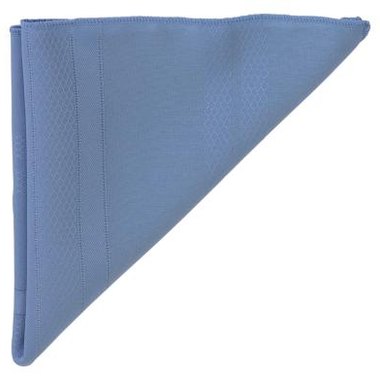 The items that you place on a shelf aren't solely responsible for making the shelf look decorative. A shelf scarf, also known as a mantel scarf, can enhance your decor. A shelf scarf is a long, narrow piece of fabric that rests on the top of the shelf, providing protection for the top of the shelf, and hangs down off the edge, adding color and dimension. Easily make your own shelf scarf, even if your sewing abilities are basic.
Items you will need
3 cloth napkins

Iron

Needle

Thread

Tassels
Step

1
Lay three cloth napkins in front of you face down. Turn each one 90 degrees so that instead of looking like a square, they take on a diamond shape.
Step

2
Pull the bottom corner of each diamond, up to the top point. This will create a triangle shape with each napkin. Use an iron on medium heat to further crease the folds you just made.
Step

3
Overlap the right corner of your far left triangle onto the left corner of the triangle next to it. Overlap the right corner of your middle triangle onto the left corner of your far right triangle.
Step

4
Thread a needle with nylon thread. Sew the bottom layer of each napkin corner that you've overlapped on top to the other napkin corner, the one which is beneath it. You will need to make only four or five tight stitches to hold them together.
Step

5
Stitch a gold tassel to the top point of each triangle, sewing through the two folded layers of napkin. Your shelf scarf is ready for the shelf. The tasseled ends are the ones which will hang down off the edge of the shelf.
Tips & Warnings
Easily expand the length of the shelf scarf by adding more napkins.
References
"Holidays With Michaels: The Arts and Crafts Store; Oxmoor House.; 1999
Photo Credits
Hemera Technologies/PhotoObjects.net/Getty Images