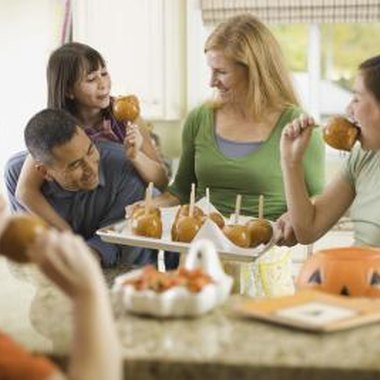 Make some kid-friendly but creepy Halloween decorations out of paper. Let kids decide on the decor for your home this year during the spookiest season of the year. Provide lots of materials and embellishments and let kids have a blast coming up with scary paper Halloween decoration ideas for your home.
Items you will need
Templates

Black paper

Pencil

Scissors

Tape

Black craft paint

Paintbrush

Googly eyes

Glitter glue

Sequins

Markers

Orange paper

Magnetic self-adhesive sheet
Repugnant Rodents
Step

1
Create crafty vermin to run around your home by printing off a mice template (see Resources).
Step

2
Trace the mice from the template on to black paper and cut them out.
Step

3
Tape the critters to stairs, along the edges of walls and around baseboards to see guests do a spooky double take.
Spiders
Step

1
Paint your child's hand with black paint, avoiding the thumb.
Step

2
Press his hand on to orange paper with the fingers pointing down. The fingers will look like spider legs, and the rest of the hand will look like a spider body.
Step

3
Paint her other hand and press it over the first hand, creating a spider with eight legs instead of four. This hand should face the other direction and overlap the first hand.
Step

4
Decorate the spider with self-adhesive googly eyes, glitter glue, sequins and markers.
Pumpkins
Step

1
Cut the shape of a large pumpkin out of orange paper, and place it on top of a self-adhesive magnetic sheet.
Step

2
Cut the magnetic sheet the same shape as the paper, and adhere the magnetic sheet to the orange pumpkin.
Step

3
Cut pumpkin features such as eyes, noses and mouths of all kinds from black paper, and stick those to pieces of the magnetic sheet.
Step

4
Stick the pumpkin and pieces to a magnetic surface, and let kids create a different pumpkin face every day by using the magnet pieces to "carve" a scary pumpkin face.
Resources
Photo Credits
Jupiterimages/Brand X Pictures/Getty Images