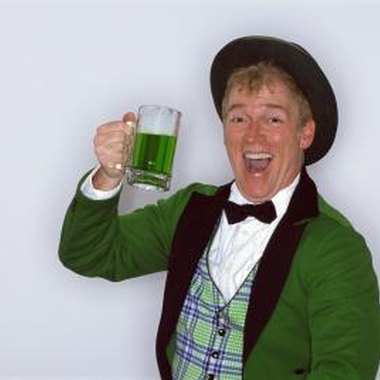 You don't have to be Irish to enjoy Saint Patrick's Day. While Saint Patrick's Day celebrates the patron saint of Ireland and is an especially prideful day for people of Irish descent, anyone can have a blast on this March holiday. Along with enjoying parades, bagpipe music, packed pubs and pints of Guinness, many people celebrate St. Paddy's day by dressing in a festive, green costume.
Step

1
Select a green article of clothing to wear. An entirely green outfit is a bit much, unless you want to look like a leprechaun (which is entirely possible). Instead, stick to a green shirt or tank top, green pants or a green dress.
Step

2
Wear colors that accentuate and draw attention to the green. Dark blue jeans, a black T-shirt or a dark brown belt complete the Saint Patrick's day outfit while bringing out the festive green of your tank top, pants or dress, respectively.
Step

3
Add some layers with different shades of green. Since March weather can be a bit unpredictable, dress practically yet festively by adding more layers of green. A pale-green cardigan or a lime-green scarf will make your costume less monotonous while still very green.
Step

4
Accessorize. Green beaded necklaces, a shamrock-shaped pin, kelly green footwear, emerald bracelets or a claddagh ring give you costume some Irish charm.
Step

5
Top off the costume with some holiday hat-wear. Whether it's an emerald-colored baseball cap, a leprechaun hat or a bright green headband adorned with shamrock-topped antennas, top off the costume with an accessory that reminds everybody that it is Saint Patrick's day.
Photo Credits
Jupiterimages/liquidlibrary/Getty Images