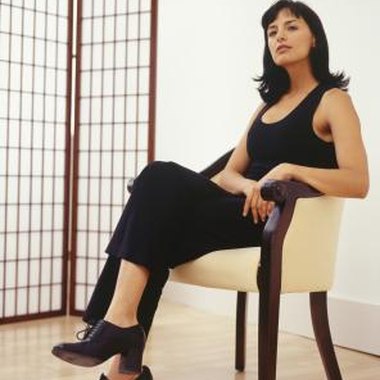 Paper screens, or shoji screens, serve functional and decorative purposes in the interior design element. Typically comprised of rice paper glued to wood or bamboo frames, the translucent screens provide privacy while allowing light to filter through. Depending on personal preference, leave the screens as they are or glue wooden strips over their front to form a grid for added effect. Glue the wood frame before attaching the rice paper to it so it blends with the theme of the room.
Items you will need
Tape measure

Redwood, basswood or cedar lumber

Miter saw

1-inch wood boards

Hand saw

Fine-grit sandpaper

Wood glue

Corner clamp

Screwdriver

2-inch screws

Rice paper

Scissors

Metal hinges
Step

1
Measure the length and width of the area where you want to install the rice paper screen and note the measurements. Sketch the screen on graph paper to determine its final size and the spacing between the grid or lattice. Depending on personal preference, attach three or four identical rectangular panels to form a freestanding screen or room divider.
Step

2
Cut 1-by-1 1/2-inch redwood, basswood or cedar boards to the desired height and width for the frame using a miter saw. Also cut 1-inch-wide boards for the inside lattice or grid, plus 1 inch. Use fine-grit sandpaper to sand the sides and edges of the wooden frames and lattice panels.
Step

3
Dry-fit the wooden boards for the frame on the ground so the mitered ends join to form flush corner joints. Apply wood glue to the corners and place them in a clamp. Tighten the clamp and wait for the glue to set. While the glue sets, drill a hole through the corner. Once the glue sets, insert a screw into the hole to join the corners together. Repeat the process on the remaining corners.
Step

4
Lay the frame on a level ground. Apply a thin layer of wood glue over the edges. Unroll a sheet of rice paper over one end of the frame and press it over the glued wood as you extend it along the frame to the other end. Cut excess off with scissors. Press the ends of the rice paper over the frame so the glue adheres to it and forms a secure joint.
Step

5
Glue the strips for the grid over the rice paper according to the desired spacing. Attach the horizontal strips along the length of the frame first, and then the vertical strips that result in an evenly spaced arrangement. Set this screen aside. Repeat the procedure to form two or three identical screens.
Step

6
Join the panels together with hinges to form a screen. Using two hinges per connection, mark the locations of the upper and lower hinges and join with screws.
Photo Credits
Michael Matisse/Photodisc/Getty Images