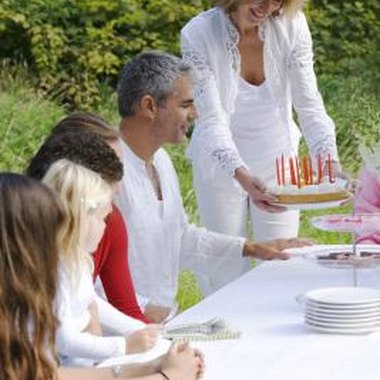 Birthdays are celebrated in many ways. Some years you may commemorate the occasion over pizza and beer. Other times, especially for landmark birthdays, you may want to plan something formal. Acknowledging a birthday in a more official capacity requires additional planning like choosing a nice place to celebrate, putting your guest of honor at head of the table and designing a program so guests know what to expect. Making formal programs involves letting attendees know what to expect during the event.
Step

1
Plan the cover or heading of the program. Depending on the background of your guest, you could highlight a family crest or the family name in script. If these feel too official, use a birthday cake or a picture representing a favorite hobby. For example, with someone celebrating a birthday who loves her prize roses, you could place a picture of these flowers on the front.
Step

2
Introduce your birthday guy to party guests. Include a picture of him, if you didn't place one on the cover, and a short biography highlighting significant events in his life if it's a mile marker birthday. Inject some humor into the memories about your guest-of-honor.
Step

3
List what to expect during the event. Start with a formal introduction of your guest-of-honor then follow up with the other activities that attendees will enjoy. Ideas to specify on the program include guest entrances, blowing out the birthday candles, games, eating time, handing out prizes, opening gifts and the conclusion. List times with these events as well.
Step

4
Thank the guests for attending. In a small section on the back or at the bottom of your program, show your appreciation to those who made the effort to celebrate with your birthday girl by listing key people who helped plan along the way. Also include anyone who your birthday girl would like to acknowledge.
Step

5
Use a serif font for your program as it appears more formal than a sans serif. Set wide margins for your text and don't make your information too cluttered. When you are ready to print your program, use a heavier paper or card stock with a linen background or similar classic finish. Ivory or pastels in blue or yellow are good selections for colors when making your final decisions at the printer.
Tips & Warnings
Check if your guest-of-honor would like to add anything specific to the program such as special pictures.
Photo Credits
Dynamic Graphics/Creatas/Getty Images