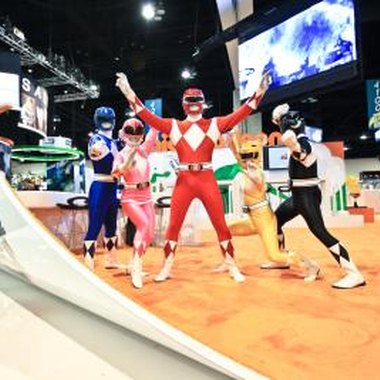 Create Mighty Morphin Power Rangers favors for a Power Rangers theme party. The original Power Rangers children's series debuted in 1993 and ran until 1996. It featured six teenagers with martial arts skills being selected by otherworldy good guy Zordon to save the world from Rita Repulsa and her evil forces. The show has since spawned movies and spin-off series as well as plenty of merchandise. Make your own Power Rangers party favors based on images from the show.
Items you will need
Card stock

Scissors

Red, yellow, black, green, pink and blue paints

White paint

Popsicle sticks

Glue

Plain white t-shirts

Fabric paint
Mask Favors
Step

1
Trace Power Rangers helmet designs onto pieces of card stock using either images from the television series or your own design. Cut the helmets out of the card stock, including the eye sockets.
Step

2
Paint the "helmets" in the colors worn by the Power Rangers, including black, pink, green, red, blue, white and yellow. Paint the areas around the eye sockets black and paint the mouth area white. Use images from the television series if needed to get the look of each mask just right. Allow to dry.
Step

3
Glue Popsicle sticks to the backs of each mask as handheld mask favors.
T-Shirt Favors
Step

1
Dye white t-shirts in blue, pink, white, green, red and yellow shades with fabric dye. Allow to dry. Or, purchase t-shirts in the appropriate colors.
Step

2
Use fabric paint to create the Power Rangers costume design on each t-shirt. All shirts should feature a white diamond in the middle chest area with diamond halves on either side. Each t-shirt also requires a white horizontal strip across the bottom, or waist area, of the shirt.
Step

3
Vary each t-shirt in accordance to the color and subsequent black and yellow animal power coin. For example, a Pink Ranger t-shirt will feature a yellow pterodactyl image on a black "coin" in the center of the white diamond. It will also feature a pterodactyl belt buckle in the center of the white strip. Use images from the series if necessary to copy the belt buckle, which features a smaller version of the power coin surrounded by pink and gray belt buckle material.
Tips & Warnings
Punch holes on the sides of each mask and thread string through the holes as another mask option.
References
Photo Credits
Chelsea Lauren/Getty Images Entertainment/Getty Images