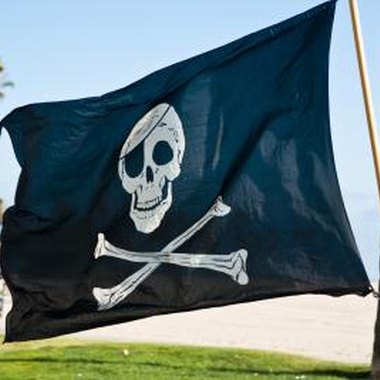 Children can stay occupied for hours playing swashbuckling pirates in a homemade pirate ship. You can make the giant cardboard pirate ship for a party from a few cardboard boxes and a little bit of creative decorating. Turn the pirate ship into an art activity for the party as well and have the party group decorate the outside of the ship with markers, pencil crayons and stickers for a customized play structure.
Items you will need
Cardboard refrigerator box

2 cardboard oven, dishwasher or washing machine boxes

Duct tape

Indoor/outdoor paint

Paintbrush

Pirate-themed stencils

White poster board

Black paint or marker

Craft glue
Step

1
Lay the refrigerator box in the center of your working area. Cut off both short ends and one long side of the box. The box will automatically fall open once you remove the long side. Have someone help hold the sides up while you work on the next step.
Step

2
Cut the long side that you removed in half lengthwise. Find the center of the length of the box and place one half on top, perpendicular to the long length. Fold the ends of the piece over the sides of the box and glue or staple in place. This will hold the box in shape.
Step

3
Place one of the oven or clothes washer boxes next to one short end of the refrigerator box. Cut off the side of the oven box next to the refrigerator box and slide the two boxes together. Duct tape around the edges of the two boxes to keep them together. Seal the top of the oven box closed with duct tape. Repeat with the remaining box at the other end of the refrigerator box to make the bow and stern of the ship.
Step

4
Cut circles near the top of one of the oven boxes. Make each circle about 8 to 10 inches in diameter for windows.
Step

5
Give the entire pirate ship a paint job. Paint the pirate ship brown for a realistic look or paint the ship in the guest of honor's favorite colors. Let the paint dry according to instructions. Attach dragon or pirate-themed stencils to the sides of the ship and paint within the stencil to add decorations to the ship.
Step

6
Outline the skull for a Jolly Roger flag on a piece of white poster board. Color around the skull with black marker or paint. Spread a layer of glue along one short edge of the flag and press it along the top half of an empty wrapping paper tube.
Step

7
Place the new flag at one end of the ship and duct tape around the bottom of the tube to attach the flag to the top of the ship.
References
Photo Credits
Jupiterimages/Photos.com/Getty Images