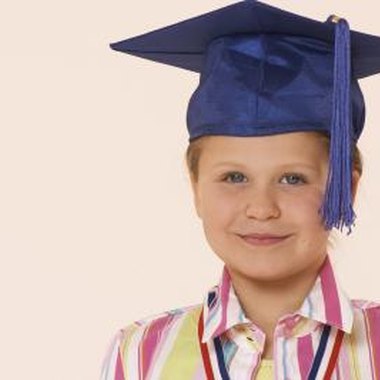 After several years in elementary school, many students and their families are proud to celebrate a fifth-grade graduation. A graduation party is one way to mark this occasion. If you're hosting a fifth-grade graduation party, send each guest home with a party favor as a reminder of the event. You can make a variety of fifth-grade graduation party favors to give everyone a one-of-a-kind "thank you." Many of these favors require little more than paper and ribbon to create the personalized present.
Items you will need
Jar

Candy

Ribbon

Paper

Hole punch

Clay pot

Paints

Paint brush

Seeds

Computer

Printer
Step

1
Estimate how many people will be at the fifth-grade graduation party. If the event will only have a few guests, you'll probably have more time to spend making elaborate party favors than if the party will have a few dozen guests. Think about how much time you have, and what kind of materials are available before making the party favors.
Step

2
Create jars of candy for each guest to take home. Start with small jars, such as clean baby food containers. Remove any labels so that guests can see the contents. Fill the jars with candies in the elementary school's colors. Tie a colorful ribbon around the top and attach a note that thanks guests for coming.
Step

3
Make bookmarks for guests to remind them of the fifth-grade graduation and also the importance of reading. Start with pieces of paper that are about 2 inches wide and 5 inches long. Draw a unique design on each one, or create one design on the computer that can be printed onto each of the bookmarks. Incorporate some words that tie in the fifth graders and the graduation, such as the school's motto or a quote about the future. Make a hole in the top of each bookmark with a hole punch and tie a colorful ribbon through it.
Step

4
Give each guest a potted plant that they can watch grow and blossom, just as the graduating fifth graders have grown. A few weeks before the party, decorate small clay pots with paints, coloring them the school's colors or writing on the graduation year. Fill each one with soil and place a seed of your choice inside. Water the seed as directed. By the time of the graduation, the seeds should have begun to sprout. Give one to each guest, along with care instructions for the growing plant.
Step

5
Present each guest with his own small diploma to thank him for celebrating the fifth-grade graduation. Design the thank-you diploma on your computer in a word processing program. Write "Thank you for sharing our happy day," as well as other sentiments, including "Congratulations to the graduating class of (year)." Print enough of the diplomas for every guest. Roll each one up and tie it with a ribbon.
Photo Credits
Jupiterimages/Photos.com/Getty Images