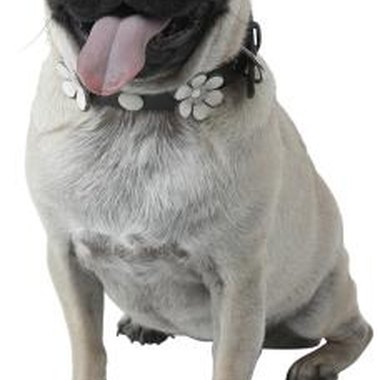 A dog should always wear a secure collar with proper identification and rabies tags. Sometimes, though, a special occasion calls for more festive wear for your pooch. Whether it's the dog's birthday or a holiday, a fun and colorful party collar for your pet can add to the celebration. These collars can usually be purchased at pet supply stores or specialty shops, but it's not hard to craft one yourself, and that way you can add personalized touches.
Items you will need
Wrapped cord

Ribbon

Fabric glue

Needle

Thread

Sequins

Pompons

Rhinestones

Glitter

Beads
Step

1
Gather your materials. At a minimum, you'll need a wrapped cord, ribbon, fabric glue, and a needle and thread for sewing. Further decorate at your discretion. You might want to use pompons, sequins, rhinestones or beads. These items can typically be found at craft and hobby stores.
Step

2
Measure the circumference of your dog's neck.
Step

3
Cut the cord to fit around your dog's neck, and attach the two ends by sewing them together. The collar should not be so loose that it falls off easily, but it needs to be loose enough to slip over your dog's head and allow your dog to breathe and move comfortably. The best way to test this is to put two fingers between the collar and the dog's skin. Your fingers should fit easily.
Step

4
Cut the ribbon into many strips. You can either keep them uniform or cut them into two or three different lengths for variety.
Step

5
Attach the pieces of ribbon by looping them around the cord and then sewing them in place. Decide if you want a full or sparsely spaced effect. Alternatively, you could use pieces of fabric.
Step

6
Decorate the party collar with items like sequins or rhinestones. Either sew the decorative items on or use fabric glue. If using fabric glue, make sure it is completely dry before putting the collar on your dog.
Tips & Warnings
If you would prefer to not start from scratch, then simply decorate an old dog collar that you know will fit around your pet's neck.

Supervise your dog when he is wearing a party collar, particularly if the collar has a lot of design elements. Your dog could choke on small objects like beads and rhinestones.
Resources
Photo Credits
PhotoObjects.net/PhotoObjects.net/Getty Images