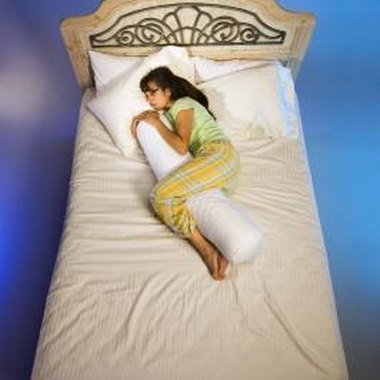 The tiny micro-foam beads inside therapeutic pillows appear deceptively ordinary. Don't be fooled; body pillows sold through catalogs fill their pillows with polystyrene micro-beads that range in size from 0.25mm to 0.7mm. Each therapeutic micro-bead has an external lubricant coat that lets the beads slide smoothly and silently against each under pressure, allowing the pillow to reshape quickly. The result is a comfortably firm body pillow that runs the length of your body and supports your knees, hips and back while you sleep. These micro-beads are the key to making your own body pillow.
Items you will need
3-yards Lycra, Spandex or similarly stretchy material

Measuring tape

Fabric pen

Funnel

Sewing pins

Scissors

Sewing machine

5 20-ounce bags of polystyrene micro-beads
Step

1
Fold your fabric in half, right sides together. Choose a flexible, stretching fabric that will let the micro-beads move and collect without making your pillow feel stiff and lumpy. One one half, measure and outline the desired dimensions of your body pillow. Use a fabric pen to outline the pattern on the wrong side of the stretchy fabric. A standard body pillow is 45-inches long and 7-inches wide, but adjust these measurements to suit your needs. Remember that your pillow will lose half-inch of height and width after sewing the seams.
Step

2
Pin the fabric together, still folded, on the inside of the line you drew in Step 1 to keep the two sides from sliding around. Cut out the body pillow using your scissors. You will have two equal pieces. Remove the pins.
Step

3
Pin both halves of the stretchy pillow casing together, right sides together. Set the pins approximately one half-inch from the edge to leave room for sewing.
Step

4
Using a sewing machine, stitch one of the longest side of the body pillow casing together with a straight seam, approximately half-inch in from the material's edge.
Step

5
Turn the pillow and continue sewing one short edge, then continue to sew along the second long edge.
Step

6
Turn the pillow case right side out so the first three sewn seams are no longer visible. Tuck under one half inch of the remaining short edge, and sew shut that seam using a quarter inch seam allowance. Leave a 3-inch opening in the corner for the funnel.
Step

7
Insert the funnel into the 3-inch opening and pour the micro-beads through the funnel. Continue pouring until the pillow is firm, but the fabric is not stretching.
Step

8
Remove the funnel and stitch the opening shut by hand.
Tips & Warnings
Keep your body pillow clean by covering the stretchy material with a pillow case made from cotton jersey or some other flexible cotton knit.

Spot clean your bead-filled body pillow with cool water only. Micro-beads melt and become misshapen in the machine washer and dryer.
Photo Credits
Creatas Images/Creatas/Getty Images