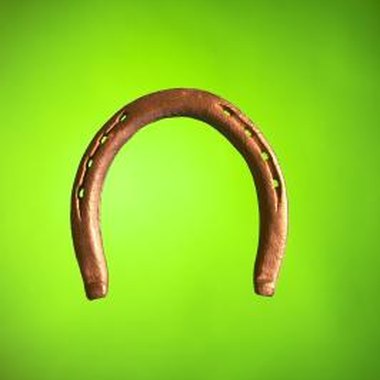 A horseshoe Christmas tree is a simple project that can add to any Western Christmas theme. A Western Christmas theme uses rustic materials for decorations and old-fashioned foods to give the holiday a country flair. A horseshoe Christmas tree finishes the theme and takes just a few tools to complete. Use high-quality soldering tools to ensure a firm bond between the separate horseshoes. Make the Christmas tree two or three days in advance to allow plenty of cooling and drying time before use. You can prop the tree against the wall, or use hanging brackets to hang the tree on a wall.
Items you will need
12 horseshoes

Soldering iron

Solder

Solder pickling

Green spray paint

Hanging brackets

Christmas ornaments
Step

1
Cut the solder pieces into 1 inch sections. Soak the pieces in solder pickling for about one hour. Soaking the pieces helps them fuse to the horseshoe iron with a longer-lasting bond.
Step

2
Heat the soldering gun. Melt a 1-inch piece of solder against the side of a horseshoe. While the metal is still hot, press a second horseshoe against the metal. Make sure both shoes face the same direction. Melt another 1-inch section of solder between the joint where the two pieces meet. Set your first line of two horseshoes aside. Solder four horseshoes together in a line using the same method. Solder a line of three horseshoes and another line of two horseshoes. Allow the solder to cool completely.
Step

3
Solder the line of two horseshoes to the middle of the line of four horseshoes. Make the two horseshoes face down, and the four face up.
Step

4
Solder the bottom of the three horseshoes to the top of the four horseshoes. Repeat the process for the second line of two and the last single horseshoe. You should now have a tree shape. Allow the solder to cool completely.
Step

5
Solder two hanging brackets to the back of the horseshoes if you want to hang the tree on a wall.
Step

6
Spray paint the horseshoes green. You can paint the bottom two horseshoes brown, or also paint them green.
Step

7
Add small Christmas ornaments to the tree to complete the rustic look.
References
"Christmas Celebration: Santa Fe Traditions, Foods & Crafts;" Richard P. Clawson; 1995
Photo Credits
Hemera Technologies/AbleStock.com/Getty Images