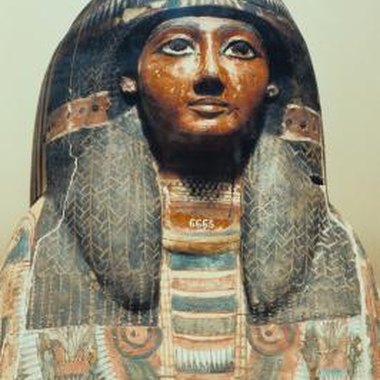 Use common household items to create your own ornately decorated sarcophagus to teach your children about Ancient Egypt or for an enjoyable art project. The sarcophagi of Ancient Egypt were covered in hieroglyphs and pictures, but your homemade version can include any images you choose. Sarcophagi for famous pharaohs such as King Tutankhamun, or "King Tut," were roughly rectangle boxes shaped and painted to look like humans.
Items you will need
Cardboard box

Gold craft paint

Colored markers

Glue

Bright colored beads

Newspaper

Printer and paper (optional)
Step

1
Place a cardboard box or shoe box on a surface covered in newspapers. Paint the box in a layer of gold-colored craft paint. Add more layers of paint to cover images and graphics already on the box. Wait for the paint to dry.
Step

2
Draw a semicircle 3 inches wide with a marker on the box top to form the head of the sarcophagus. The top of the half-circle should be at the edge of one of the top's shorter sides. Draw a line across just underneath the head for the shoulders, making everything underneath it the body of the sarcophagus. Draw a "t" across the body to split it into four sections.
Step

3
Draw a circle within the head that takes up about half the space. This is where you will draw the face. Draw a face, or print one from a photo or other image to glue. The rest of the semicircle will be the figure's hair, which can match your own hair or can come straight from your imagination.
Step

4
Cover the four sections of the sarcophagus' body with symbols and images that represent activities and things you enjoy. Sports logos, cartoon characters, symbols of your favorite school subject, musical notes and other symbols are appropriate.
Step

5
Decorate the outer sides of the box with hieroglyph, fake gems and other images. To create fake gems, glue brightly colored beads to the sides. Common hieroglyphics to use are an eye, a semicircle, a zigzag line and an eagle. Draw or include images of the activities you represented on the top of the sarcophagus, such as people playing a game of basketball or someone playing the clarinet.
Step

6
Wrap a doll in cloth strips or toilet tissue to make a mummy and place it inside the sarcophagus. If you do not have an appropriately sized doll handy, crumple construction paper into a human-shaped form and wrap that in cloth strips.
Photo Credits
Jupiterimages/Photos.com/Getty Images