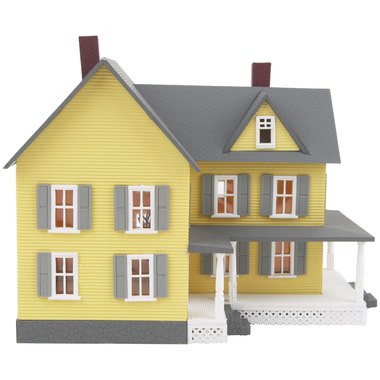 A large Victorian doll house needs a sewing room, but a room dedicated to sewing would also be an asset in a modern dollhouse. Design your dream sewing room on a much smaller scale. You can also create a "sewing" room in a modest house from another era. Create a seamstress's small shop from the Edwardian era, or the cottage bedroom where a young mother sat and sewed while watching over her baby's cradle.
Items you will need
Paint (optional)

Paint brush

Scrapbook paper (optional)

White glue

Wooden coffee stirrers (optional)

Shears

Cotton velveteen (optional)

Heavy-duty double-stick tape

6-inch-by-3-inch-by-3-inch wooden box

Saw

Miniature sewing machine

Miniature chair or stool

Shirt cardboard

Ruler

Thin fabric

Scissors

Ironing board

Iron

Thread

Miniature basket

Straight pins, 2

Sewing miniatures

Miniature furniture

Miniature clothing

Seam ripper
Step

1
Paint or paper the walls of the room. Scrapbook paper makes excellent wallpaper. Chose a tiny print with sewing notions for a modern room, or small stripes with a border at the top for a Victorian room.
Step

2
Lay a floor. Glue rows of wooden coffee stir sticks for a wooden floor. Cut the ends of the stir sticks off when you reach a wall. For plush carpet use cotton velveteen. Hold it down with heavy duty double-stick tape.
Step

3
Saw a 6-by-3-by-3 inch wooden box in half across the middle of its long side. Set it on the cut end to make a sewing machine desk. Place a miniature sewing machine on the desk and a miniature chair or stool in front of it. Choose a machine that suits the era of the room.
Step

4
Cut 2-by-1 inch rectangles from shirt cardboard to make fabric bolts. Cut 6-by-1 3/4 inch rectangles from thin fabric. Choose solids or tiny prints. Lay the fabric face down on an ironing board and fold and iron the long sides in so they meet in the center. Wrap the fabric around the cardboard bolts so that a bit of cardboard shows on each end.
Step

5
Wind tiny balls of sewing thread and place them in a miniature basket. Add two straight pin "knitting needles."
Step

6
Scatter the bolts of fabric and the knitting basket around the room. Add other miniature sewing accessories, such as a dressmaker dummy or a yard stick. Add other miniatures, such as a bed or cutting table to complete the room.
Step

7
Use a seam ripper to take a few seams out of a doll garment to create an unfinished garment. Place it beside the sewing machine.
Tips & Warnings
Cut wallpaper to fit before you hang it. Glue it on with a mixture of equal parts of white glue and water. Apply the glue with a paintbrush. Stain the sewing machine desk or the coffee stirrers to the desired color. Wooden boxes and other dollhouse supplies are sold at craft stores.
Photo Credits
PhotoObjects.net/PhotoObjects.net/Getty Images