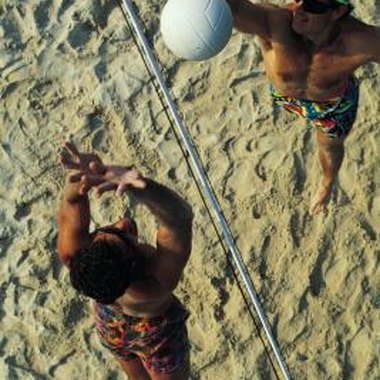 A Hawaiian beach party, or luau, is an ideal summertime event. Hosting the party actually on the beach makes it even more exciting and enjoyable. The easiest way to throw a Hawaiian beach party is to have everyone pitch in during the event. Recruit several friends to help host to ensure that all guests have an enjoyable time. Don't forget to clean up the beach when the party is over.
Step

1
Prepare food in advance that you can easily transport and serve at the party. Finger foods, such as kebobs, fruit slices and snack crackers are the easiest to eat and transport to and from the beach. Set up a grill on the beach, if it is allowed by your municipality, and cook there. Serve pineapple upside-down cake or a volcano cake for dessert. Traditional Hawaiian foods include mahi-mahi, barbecued chicken and roast pork.
Step

2
Decorate the beach with beach towels, lawn chairs, large umbrellas and plenty of flower leis. Create a Hawaiian-themed musical soundtrack to play during the party. Play traditional Hawaiian music using native instruments combined with themes from "Hawaii Five-O" and "Blue Hawaii." You can also play music by modern Hawaiian artists.
Step

3
Serve both alcoholic and non-alcoholic drinks for a variety of age groups. Include fruity cocktails, rich smoothies and plenty of water so guests can stay hydrated. Some traditional Hawaiian cocktails include mai tais and blue Hawaiians. Set up coolers full of drinks for self-serve. You can also set up a bar where guests can order drinks.
Step

4
Set up several beach-style games for guests to play. Volleyball is a classic beach game that also fits in with the Hawaiian theme. Rent several surfboards and have surfing contests in the water if waves are plentiful, but always exercise caution when in the water. Create a pineapple bowling station for children, who can use coconut balls to knock down pineapple pins.
Step

5
Have a contest to determine the best-dressed guest. Have guests show up in Hawaiian shirts or traditional grass skirts and coconut bras and allow the guests to vote on their favorite male and female candidates.
References
Photo Credits
Comstock/Comstock/Getty Images