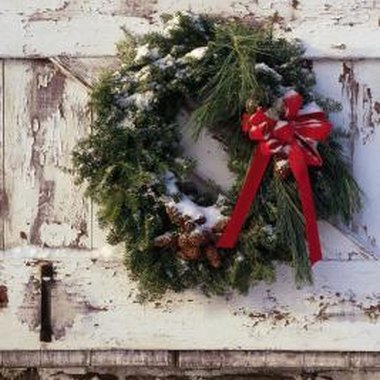 There's no better way to dress up a door with some holiday cheer than by adorning it with a beautiful evergreen pine wreath. With their lovely deep green hue and fresh pine scent, evergreen wreathes make a great addition indoors, too. Making your own wreath not only lets you get into the Christmas spirit, but also lets you add personal touches--from beautiful bows to sparkling snowflakes--ensuring that the wreath captures a holiday look that is perfect for your home.
Items you will need
2 wire coat hangers

Floral tape

Pine branches

Floral wire (lightweight)
Step

1
Pull on the bottom of the two wire coat hangers and bend them to make their shapes morph from triangular to circular. Put the two coat hangers side by side and bind them together by wrapping them with floral tape.
Step

2
Trim the pine branches so you have several pieces that are approximately 8 to 10 inches long.
Step

3
Lay the branches one by one on the coat hanger base. Secure them to the base by wrapping floral wire around the branch and the base.
Step

4
Continue layering branches and attaching them to the wreath until the coat hanger, as well as portions of the branch that are not covered by pine needles, are no longer visible.
Step

5
Decorate the wreath. Attach festive ribbons, sprigs of berries, poinsettias or other Christmas decorations with some hot glue, pins or floral wire.
Photo Credits
Comstock/Comstock/Getty Images