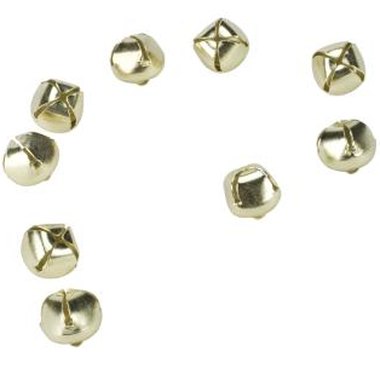 Bells have a delicate chime when they are moved, and they are an excellent decoration for your door. Use them during the holiday season to herald beloved guests, or simply leave them up year round to announce people entering or leaving the house. Make your own door hanger bells as a simple craft that brightens up your home with lovely ringing.
Items you will need
Wire

Wire cutters

Needle-nosed pliers

Solid brass ring

1-inch metal sleigh bells

Ribbon (optional)
Step

1
Cut a piece of wire that is about 12 inches long, using a pair of wire cutters.
Step

2
Bend down one end of the wire by 1 inch, creating a hook. If the wire is light and easy to handle, do this with your hands; if it is stiff, use a pair of pliers.
Step

3
Hook the bent wire over the edge of a solid brass ring. The ring can be any size, as you will be using it to hang the bells from your door. You may hang this ring over a nail in the door (or a wall), or you can loop ribbons through the ring and tie it to your door knob or knocker.
Step

4
Twist the short end of the wire around the longer length with a pair of pliers, attaching the wire to the ring.
Step

5
String 1-inch metal sleigh bells onto the wire until only 1 inch of wire is left at the bottom.
Step

6
Twist the remaining wire into a ring with a pair of pliers. This prevents the bells from dropping off. You may tie brightly colored ribbons to the ring for a decorative touch. The door hanger is ready for action.
Photo Credits
PhotoObjects.net/PhotoObjects.net/Getty Images