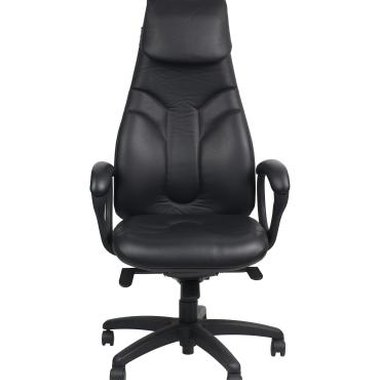 If you spend a lot of time at a desk, it is important that your chair is comfortable. Adding a seat pad to your chair alters the height and angle of the seating position and makes the seat more comfortable. The American Academy of Orthopaedic Surgeons suggest that when you are sitting at a desk, your knees should be horizontal with your thighs or have a slight downward slope. Making your own pad means that you can match it to the room decor and personalize it to your seating requirements. To change the angle of the seat, make the pad wedge-shaped.
Items you will need
Paper

Pencil

Scissors

Thick piece of foam

Craft knife

Cutting surface

Fabric

Pins

Needle and thread or staples and staple gun

Velcro

Glue
Step

1
Make a template of the chair seat. Place a piece of paper over the seat, and draw round it. Cut the template out, refit to the seat and adjust as necessary. You can make the pad slightly larger than the seat if you wish, to give more support.
Step

2
Use the paper template and a craft knife to cut the seat pad shape out of foam. Alter the angle of the pad as necessary to make it wedge-shaped, or leave it flat.
Step

3
Lay the fabric out, right-side down. Place the foam pad in the middle, and wrap the fabric round it as tightly as possible. Fold in the raw edges of the seam and pin into place. Hand sew or staple along the seam to hold it in position. The seam will be hidden under the seat pad when in use, so it will not be visible.
Step

4
Sew or glue strips of Velcro to the underside of the seat pad. Glue the corresponding backing strips to the chair cushion. When the glue is dry, press the pad into place. If you don't want to to glue Velcro to your chair, make ties from strips of fabric and fix the cushion in place by knotting the ties underneath the chair seat or around the base of the chair back.
Tips & Warnings
To make a seat pad cover that removes for washing, cut two pad shapes out of the fabric and a strip to cover the sides of the cushion. Cut one pad shape in half and fold under a narrow seam. Machine sew the pieces together, and sew on Velcro to join the seam together.

Take care when cutting foam with a craft knife, and always cut away from you onto a safe surface.
Photo Credits
PhotoObjects.net/PhotoObjects.net/Getty Images