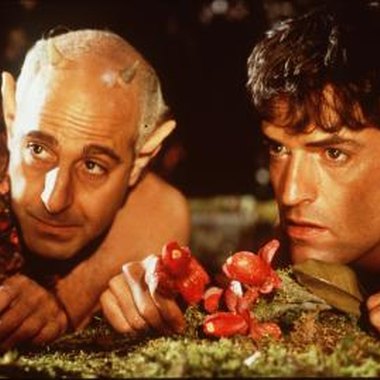 Composed during the late 1500s, A Midsummer Night's Dream is one of William Shakespeare's earliest comedies. It has been interpreted in many ways and can be adapted to fit modern times. There are a few guidelines to keep in mind when creating costumes for A Midsummer Night's Dream, but the overall costume design should fit with the interpretation and time period for which the play is being set.
Items you will need
Fairy Wings

Neutral chiffon fabric

Gold-colored rope

Street clothes

Twigs and branches

Gold spray paint

Black pin stripe suit

Grey, tan, black or white chiffon

Gold leaf crowns

Costume horns, big ears and hooves

Faux fur

Work boots

Tool belt

White t-shirt

Faded blue jeans
Step

1
Dress fairies in soft, flowing fabrics and fairy wings. Keep in mind that A Midsummer Night's Dream is set in the woodland fairy realm. If the play is being set in ancient times, use chiffons in neutral colors. For more modern adaptations, use woodsy-colored fabrics cut in styles accurate to the time period, or have the actors dress in street clothes.
Step

2
Add twigs, branches and other woodland items to fairy costumes.
Step

3
Dress the King and Queen of Fairies in more elaborate versions of the fairy costumes. Make crowns out of twigs and spray them gold.
Step

4
Dress Athenian cast members in a single shade of gray, tan, white or black chiffon. Avoid stripes, prints and multicolored fabrics. Add a gold leaf crown and tie a gold-colored rope around the waist.
Step

5
Dress Puck in hooves, horns and big ears. Give him furry legs for an ancient adaptation or have him wear frayed cut-off jeans for a more modern adaptation.
Step

6
Dress the human cast members in clothes fitting the time period the play is being adapted to. Keep in the mind the individual character's status or profession. For example, Theseus, the Duke of Athens, can wear a pin-stripped suit in a modern adaptation. Hippolyta, the Queen of the Amazons, can wear a flowing Grecian style gown in soft colors with a gold leaf crown in an ancient adaptation. Quince, the carpenter, can wear faded blue jeans, work boots, a white t-shirt and tool belt in a modern adaptation.
Photo Credits
Getty Images/Getty Images Entertainment/Getty Images