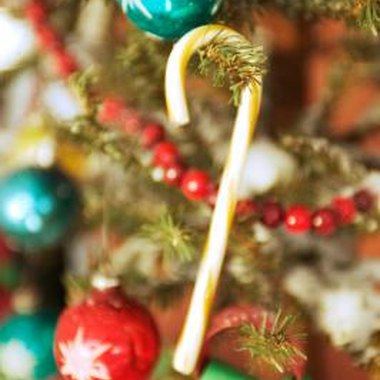 Many homemade Christmas tree ornaments are designed with children in mind. Marshmallow snowmen and paper snowflakes are just a few examples of this trend. Fortunately, beautiful ornaments can be crafted with an adult's taste in mind. Using just a few household items and some craft supplies, Christmas tree ornaments can become an exciting adult craft once again.
Items you will need
Glue

Glass Christmas ball

Decorated tissue paper

Small craft brush

1 to 2 feet of ribbon
Step

1
Dilute 2 tbsp. of glue with about 2 tbsp. of water in a small disposable bowl. The substance should be thin and easy to brush onto a glass surface.
Step

2
Rip pieces of decorated tissue paper into 1- or 2-inch sections. The edges should be slightly rough.
Step

3
Dip a craft brush into the diluted glue and apply to a small area of the glass Christmas ball. Press one of the pieces of the ripped tissue paper into place over the glue. Smooth out any wrinkles on the surface of the ornament. Repeat this step until the ball has been completely covered in tissue paper. The paper should overlap. Allow to dry completely.
Step

4
Cut a 6-inch piece of ribbon and push it through the loop at the top of the glass ball. Pull the ribbon through the opening and tie a large bow using the two ends of the ribbon to create a loop.
Tips & Warnings
Decorate old CD's, hand mirrors or votive candle holders using the same method.

Use a variety of colored tissue papers to create different designs.
Photo Credits
Photos.com/Photos.com/Getty Images