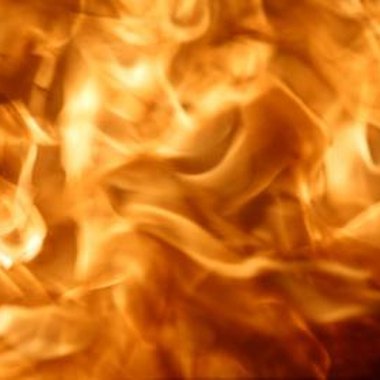 Use a burning drum to burn excess paper, cardboard, wood products and plant material. By using a drum to burn these materials, it keeps the fire contained and reduces the risk of spreading. It also allows the material to attain a high temperature, which makes it burn faster and cleaner. To make a burning drum, the drum must be cleaned and modified to allow enough air intake and then placed in a safe location for burning.
Items you will need
Metal shears

55 gallon drum

Ammonia or detergent

Bucket

Rubber gloves

Ruler

Pencil

Large metal screen, holes under 5/8ths of an inch

Grub hoe

Non-flammable metal-to-metal-adhesive

Hammer

Chisel
Step

1
Clean the drum out thoroughly with water and ammonia or detergent. Mix the ammonia or detergent in a bucket of warm water, soak a rag in the water and scrub the inside of the drum. Allow the drum to dry in the air. If the drum contained flammable materials previously, this is especially important when making a burn barrel.
Step

2
Mark the vent holes at the bottom of the barrel. Measure a three by three inch square near the bottom with the ruler and mark it with the pencil. Repeat to make two more square marks, spaced evenly around the bottom of the drum.
Step

3
Turn the barrel on its side, place the chisel on one of the lines and pound with the hammer until the chisel pierces through the metal. Repeat around the marked square until a square hole is made in the metal. Repeat with the other marked areas.
Step

4
Cut three square pieces of out of the mesh using the shears. The pieces should be slightly larger than the holes at the bottom of the drum.
Step

5
Put on the rubber gloves and apply some metal-to-metal-adhesive around the holes on the inside of the drum. Press the cut mesh pieces against the adhesive to stick them to the drum.
Step

6
Place the drum in an area that is at least 30 feet away from any buildings, at least 50 feet away from any above or underground utility corridors and nearby a supply of water.
Step

7
Clear a ten feet area around the drum. Once all of the loose material has been picked up, use the grub hoe to scrape away any plant material so that only bare dirt is visible
Step

8
Place the large piece of mesh over the drum when burning.
Tips & Warnings
If you have an angle grinder, use this for cutting the vent holes instead of a chisel.

Check your local burn restrictions before burning refuse.
Photo Credits
Hemera Technologies/AbleStock.com/Getty Images