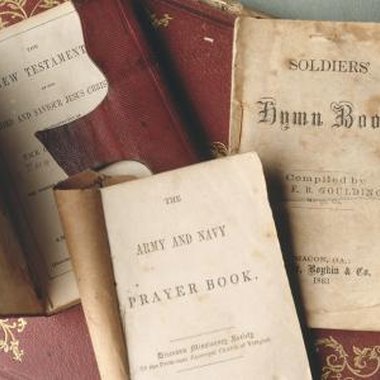 Old books have a special quality to them that inspires nostalgic feelings and fond memories. Plentiful at thrift stores and yard sales, old children's books, dictionaries and novels offer eye-catching illustrations, interesting text and antiqued yellow pages. These qualities make them an inspiration for numerous arts and crafts projects. Birdhouses made from old books enhance the fanciful feelings and although not meant to withstand rain and cold, will decorate any interior bookshelf or sheltered patio beautifully.
Items you will need
Old book pages

Hard book cover

Wood birdhouse

Ruler

Pencil

Scissor

Decoupage glue

Medium paintbrush

Utility craft knife

Hot glue

Clear varnish

Varnish brush
Step

1
Prepare your old book materials. Gently remove a hard book cover from its pages and page through the books to find interesting book pages that feature illustrations, fancy lettering or meaningful text.
Step

2
Measure the dimensions of the wood walls of your birdhouse. Cut old book pages to fit the walls.
Step

3
Apply a decoupage medium to the wood of the birdhouse and carefully place the book page to cover. Press to adhere and add a top layer of decoupage glue.
Step

4
Cover the entire front of the birdhouse with a book page, including over the entry hole.
Step

5
Use a craft knife to cut vertical and horizontal lines in the paper over the opening. Pull toward you to cover the back of the page with decoupage glue, and push through the hole and into the house to cover the entrance-way neatly.
Step

6
Apply a coat of decoupage glue over all four walls again. Allow to dry.
Step

7
Open the book cover and lay over the roof of the birdhouse. It should cover the entire birdhouse roof or overhang it.
Step

8
Apply a bead of hot glue along the top of the roof edge and all along the roof sides. Press the book cover into place to cover the roof and adhere it to the house.
Step

9
Paint the entire project with a clear varnish to seal it and add shine.
Tips & Warnings
Match a book's genre with birdhouse gift recipients to personalize. For example, use poetry books for poetry lovers or the favorite author of a voracious fan.

Do not allow old book birdhouses to get saturated in the rain. Although the varnish will make it weather resistant, the houses will last longer in a sheltered environment.
Photo Credits
Ablestock.com/AbleStock.com/Getty Images