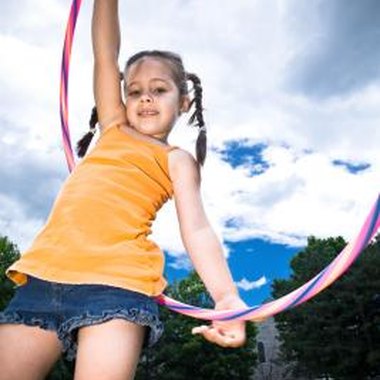 Dance hoops are better known as hula hoops. These large and often colorful hoops are used for performing both simple and advanced dance tricks by children and adults. Hooping is also a form of cardiovascular exercise that has become more popular in recent years. Although plastic hula hoops are more common, aluminum hoops have long been used by circus performers and more serious hoopers for their superior durability and their ability to keep their shape indefinitely.
Items you will need
Aluminium tubing

Measuring tape

25-foot rolls of 1-inch-wide colored gaffer tape
Step

1
Measure from your sternum to the ground with measuring tape and write down the length in inches. Divide this number in half. This is the length that each piece of your aluminum tubing needs to be.
Step

2
Look locally or online for aluminum tubing providers. Order two pieces of aluminium tubing. Specify that the tubing needs to be in two semi circles that form a circle when put together.
Step

3
Weld the two aluminum pieces together. If you don't know how to weld, hire a metal smith or professional welder.
Step

4
Wrap graffer tape around the hoop to decorate it to your taste.
Resources
Photo Credits
Jupiterimages/Photos.com/Getty Images