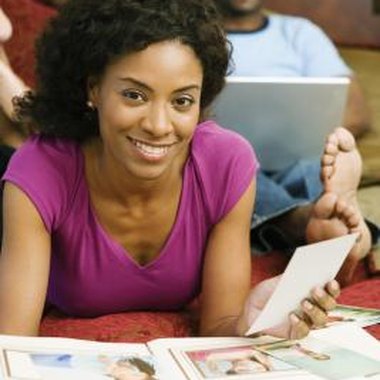 Scrapbook crafting offers new and inventive ways to capture memories and events and preserve them. Numerous formats are available for this craft. Start with a blank book, or stretch the limits of scrapbook crafting to explore the use of alternative containers. One kind of container you can use is a tin. Altoid tins are often selected because they are readily available and come in a variety of sizes. Look for Altoid tins at flea markets or thrift shops.
Items you will need
Altoid tin

Glue

Scrapbook paper

Colored markers

Pencil

Scissors

Photos

Ribbon

Buttons and other embellishments
Step

1
Trace the bottom of the Altoid tin onto the reverse side of scrapbook paper. Cut out and trim to fit inside the bottom of the tin. Trace the trimmed shape onto the left edge of a piece of scrapbook paper. Place the cut-out to the right of the tracing and trace again, matching the right edge of the tracing to the left edge of the cutout. Continue to trace the shapes one next to the other until you fill the width of your paper. Cut this strip out and fold it in accordion folds. This accordion-folded section will be the actual scrapbook. You can leave it loose and remove it from the tin to view. If you prefer, you can glue it on the lid. When you open the tin, the accordion folds will spread out for viewing.
Step

2
Glue the original cut-out into the bottom of the tin.
Step

3
Trace the top of the Altoid tin onto scrapbook paper. Cut out and glue to top of tin.
Step

4
Glue photos, ribbons, embellishments and other items to the accordion-folded scrapbook paper.
Step

5
Add text, line drawings and other embellishment with colored markers.
Step

6
Fold the accordion scrapbook pages and place them in the Altoid tin. Add further embellishment to the outside of the tin. Glue ribbon or paper strips around the outside edges. Glue ribbon on the front and back to serve as handles for your tin scrapbook.
Tips & Warnings
Use glue that will adhere to tin.
Photo Credits
Jupiterimages/Creatas/Getty Images