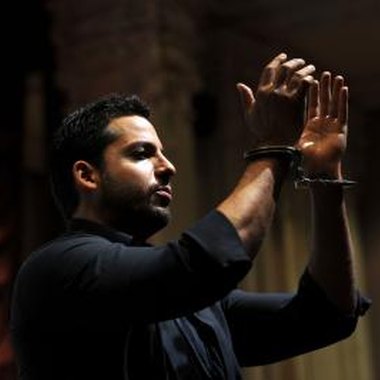 David Blaine is an American magician well known for entertaining live audiences with tricks, illusions and endurance feats that are seemingly impossible in nature. Blaine began his career in 1997 as a performer of street magic, but is best known today for executing high-profile feats of endurance that test both the mind and the body. Some of Blaine's most famous stunts include "Frozen in Time," "Vertigo" and "Drowned Alive."
Street Magic
David Blaine began his career by bringing street magic to the public, performing card tricks and illusions in front of small groups of people. His approach toward performing was simple, he wanted to "...bring magic to a level where Houdini had it a hundred years ago. When you thought of magic, you were intrigued...you were emotionally moved by it." Blaine's success as a street magician blossomed and he became a ratings hit in 1997 with his television show "David Blaine: Street Magic." Two years later he would be given a second show, called "David Blaine: Magic Man." Some of Blaine's most popular street tricks included transforming a homeless man's cup of coffee into a cup of overflowing change, tying his untied shoelaces with the flick of a foot and biting through a quarter only to restore it to its original intact state.
"Frozen in Time"
David Blaine's desire to emotionally move large audiences eventually led him to pursue endurance art. In the year 2000, he performed a stunt called "Frozen in Time." The stunt required the magician to be encased in a massive block of ice, with supply tubes providing only oxygen and water. Blaine withstood the freezing ice for 63 hours, 42 minutes and 15 seconds before being freed by a chainsaw crew. After spending more than two days in ice, Blaine was disoriented and dazed, suffering from severe sleep deprivation. The endurance feat had such an impact on his body's physiology, that it took him over a month to learn how to walk again. "Frozen in Time" was performed in front of hundreds of fans in Times Square, New York City.
"Vertigo"
In 2002, David Blaine completed an endurance stunt called "Vertigo." He was lifted to the top of a 90-foot high, 22-inch wide pillar in New York City's Bryant Park. There were no harnesses that kept him attached to the top, nor were there any safety nets below. Blaine stood atop the pillar for exactly 35 hours, battling fatigue, leg cramps and sleep deprivation. Thousands of spectators gathered in Bryant Park to see the end of Blaine's incredible endurance stunt, which resulted in him jumping off the pillar onto a landing platform made of cardboard boxes. Blaine suffered a mild concussion from the impact of the fall.
"Drowned Alive"
"Drowned Alive" is perhaps David Blaine's most nail-biting endurance feat to date. He was submerged in a water-filled sphere (8 feet in diameter) for seven days and seven nights, using tubes to eat and breathe. He ended the week-long submersion in New York City with an attempt at breaking the underwater breath-holding record. At the time, in 2006, the world record was held by Tom Sietas, with a time of 8 minutes and 58 seconds. To make the prime-time television event more exciting, Blaine was chained to the bottom of the sphere by handcuffs. After having difficulty escaping the last handcuff and showing signs of distress, Blaine was pulled out of the water by support divers after holding his breath for 7 minutes and 12 seconds, missing his goal by 1 minute and 47 seconds. Thousands of fans watched the event unfold live in person and on television.
Photo Credits
Bryan Bedder/Getty Images Entertainment/Getty Images