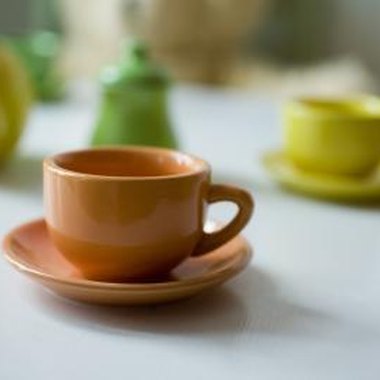 Your guests may feel like they've fallen down a rabbit hole when they attend the Mad Hatter baby shower you're hosting. As soon as guests enter the party room, give each person a tea bag and a tea cup -- but no water -- to welcome them to the strangeness which is Wonderland. Introduce them to the Mad Hatter, also known as the mother-to-be who is wearing a top hat sporting a large price tag on the side.
Invitations
Invite guests to the baby shower by writing the shower information on a Mad Hatter party favor hat box. Pipe "Eat me" on top of a cupcake and place inside the favor box. Hand deliver invitations. Another option is to fill small boxes with tea bags and write the baby shower information on the exterior of the box. Seal the boxes closed with Alice in Wonderland stickers. Or cut rabbit-shaped invitations out of white card stock and write the theme, time, place, location and RSVP information on it.
Decorations
If possible, have the party outside by a tree to mimic the site portrayed in the book "Alice's Adventures in Wonderland." Line up long tables end to end. Cover the tables with white tablecloths; it's not a Mad Hatter party without tons of empty chairs circling a long, tea cup-covered table. Stack mix-matched and multi-sized tea cups and saucers all over the table. Use standard, doll and planter-style tea cups. Fill tea kettles with flower bouquets and place small trays holding lumps of sugar and pitchers of cream on the tables. Hang pastel paper lanterns around the party area.
Food and Drinks
Feed guests small cucumber and cream cheese finger sandwiches along with fresh fruit. Or offer food traditionally served at afternoon tea in honor of the Mad Hatter's English creator. Serve bowls filled with broccoli cheese soup and platters with quiche and chicken curry sandwiches. Make a tray of cookies which look like pocket watches and put a sign next to them which reads "Eat me." Fill wine decanters with sweet tea and coffee pots with lemonade; attach "Drink me" labels to the containers. Make a topsy-turvy cake with an edible baby on top.
Games
Write the words "Wear me" on an extra-large adult diaper. Turn on some music and pass the diaper around the room. Whoever is in possession of the diaper when the music stops has to wear the diaper for the entire baby shower. Be sure to gift the diaper wearer with a party favor like a bag full of toiletries or a scented candle. Another wacky game to play is "What's in the poop?" Mix different baby foods together or mix melted chocolate with nuts, cereal and fruits and put in numbered diapers. Keep track of the ingredients used to create the "poop" in each diaper. The person who guesses the most ingredients in the different dirty diapers wins.
Photo Credits
Jupiterimages/Photos.com/Getty Images