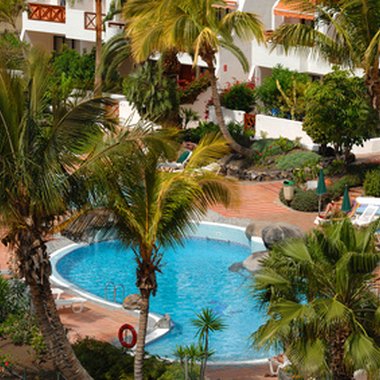 Palm Springs is full of the fun, smallish California-style motels that were built to accommodate Hollywood stars and those traveling here to see their favorite stars in the glamour days of Hollywood. Luxury resorts and hotels eventually moved in to serve all of the needs of their guests, and the competition was on.
The Riviera
Noble House Hotels & Resorts renovated and reopened the Riviera Palm Springs in October 2008. This 406-room architectural gem sits on 24 manicured acres and features two pools with private cabanas; Spa Terre, which features Balinese, Indonesian and Thai health rituals; the sophisticated Circa 59 Restaurant; a bikini bar; and poolside drink and food service. The feeling here is modern and indulgent.
The Viceroy
The Viceroy Palm Springs, a short stroll from downtown, is a classic boutique hotel and spa at the base of the San Jacinto Mountains. The resort offers private villas and three pools amid manicured grounds, and takes its updated Regency style from Hollywood's original glamour era. Estrella Spa promises privacy and head-to-toe luxury in an indoor or outdoor setting. Famous guests have included Clark Gable, Carole Lombard, Bing Crosby and Joan Crawford. For a taste of the beauty of the desert, the hotel can arrange a guided tour of Indian Canyons, four miles away. Lucky guests might spy bighorn sheep or a herd of wild ponies in Murray Canyon, or the beautiful desert wildflowers by the creek in Palm Canyon.
The Parker Palm Springs
Set amid soaring palm trees and dramatic gardens, The Parker, otherwise known as Le Parker Meridien Palm Springs, is a large, luxurious but very unstuffy hotel, with modern, color-drenched lounges and public areas, unique furnishings and an eclectic but clean overall decor. The hotel caters to business groups with five conference rooms and 11,000 square feet of meeting space. The hotel has two indoor and two outdoor pools, clay tennis courts and Pilates and yoga classes. The spa, the Palm Springs Yacht Club, offers massages, hydrotherapy treatments and a host of other services.
Casa Cody
If you're looking for a small, romantic inn, Casa Cody near the Desert Museum might be just the place. Casa Cody is in Palm Springs but has an away-from-all-that feel. It's a lovely California-ranch style bed and breakfast inn made up of eight smallish buildings constructed from the 1900s to the 1950s. The complex is surrounded by extensive citrus and bougainvillea, that ubiquitous, brightly colored flowering vine that grows well in Southern California; open lawns, pool areas and stone and masonry walls. Charlie Chaplin stayed at the 1910-era Adobe House. Winter's House is a sedate two-bedroom villa with dining room, kitchen and living room set on a large lawn. You'll feel the history of the Southwest here.
Photo Credits
Luxury resort with very nice pool and palms image by Lars Christensen from Fotolia.com