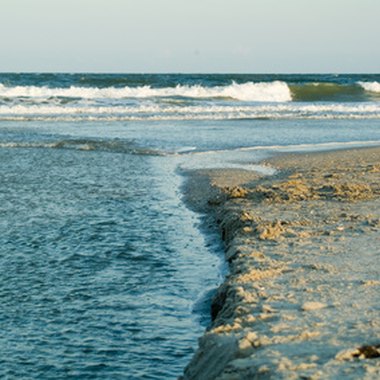 Myrtle Beach has been a favorite coastal resort town in the South for more than a century. The region does not have any four- or five-star hotels or resorts, but it does have a number of higher-end hotels. Most are built around summer travelers, with a focus on outdoor and waterfront activities. In recent years, the region's burgeoning wine scene has also begun to play a part in hotel offerings, with some properties offering special wine tours and events.
Island Vista
Embodying the fun-and-sun mentality, Island Vista is a luxury resort with a laid-back, carefree attitude. From reggae nights to Hawaiian hula shows, Island Vista aims to bring some of the vibrancy of the islands to Myrtle Beach. For those interested in golf, Island Vista prides itself on its golf packages, with a golf director who works with guests to help them pick their ideal courses out of the more than 100 in the area, set up tee times and arrange transportation. The decor features vintage furniture pieces and comfortable sitting areas. Dining options run the gamut from casual fare to regional seafood to fine dining, and a late-night bar and lounge offers a range of specialty cocktails.
Marina Inn at Grande Dunes
Marina Inn is in the sprawling 2,200-acre Grande Dunes resort area, behind a grove of trees that makes it feel isolated, while still being only a few minutes from downtown Myrtle Beach. The rooms and suites at the Marina Inn are spacious, with wide windows letting in ample sunlight and provide views of the Grande Dunes Marina. The on-site, award-winning restaurant, WaterScapes, offers up casual fine-dining seafood options, drawing from the abundant fresh daily catches. Marina Inn caters to families with children as well, with a number of seasonal specials, plenty of activities, free dining and babysitting services available.
Marriott Resort at Grande Dunes
The Marriott Resort at Grande Dunes offers traditional Marriott luxury in a secluded and peaceful environment. On-site activities abound, from tennis and golf to a water slide and watersports. The pool area is the highlight of the Marriott Resort, with plenty of lounging chairs and umbrellas, along with poolside service so you can relax with a drink or some food. The Marriott Resort at Grande Dunes offers specials throughout the year, combining a stay with other services available in the Grande Dunes resort area, including spa treatments, horseback riding and sailing.
Sheraton
Just two blocks from the ocean, the Myrtle Beach Sheraton is central to the area's many golf courses and shopping districts. The on-site restaurant, Vidalia's, is an award-winning local favorite, with large glass windows that make it the perfect place to watch the sun set over the ocean. The Sheraton also has one of the area's few convention centers, and as a result offers many business services, including same-day laundry valet, a business center and a trained business concierge staff.
Photo Credits
myrtle beach south carolina ocean view image by Jorge Moro from Fotolia.com