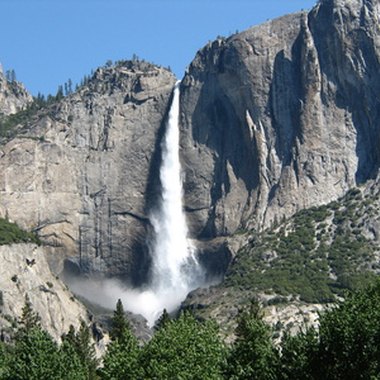 While there are a limited number of lodging establishments in Yosemite National Park, they represent a comprehensive range of options to suit visitors of all budgets and demands, from rustic, tented camps to high-end hotels. Only three in-park hotels can be considered "luxury," but for varying reasons, including spectacular settings overlooking natural wonders, historic charm, or comprehensive facilities such as swimming pools and a choice of restaurants. Hotels near park entrances present a range of alternatives.
The Ahwahnee
The Ahwahnee is unquestionably the most luxurious lodging option in Yosemite National Park. Since the hotel opened in 1927, it has welcomed heads of state, dignitaries and royalty along with park visitors seeking high-end hospitality in exceptionally grandiose surroundings. The Ahwahnee, a National Historic Landmark, is designed to complement its stunning natural setting with a facade of stone pillars, visible log beams and hardwood panels. The property's great halls, restaurants and bars, spacious guest rooms, suites and lodge-like cottage rooms all reflect Native American influences. The formal dining room, where non-guests are welcome to enjoy elaborate buffet and a la carte meals, features 23-foot stained-glass windows and an 8-foot fireplace.
Wawona Hotel
Like the Ahwahnee, the Wawona Hotel is a National Historic Landmark and member of the Historic Hotels of America group. With a history dating to 1879, and previous guests such as President Theodore Roosevelt, it is one of the oldest mountain resorts in the nation. The white, wooden, Victorian-style buildings that comprise the hotel house 104 guest rooms, most of which open onto a New England-inspired full-length veranda. For the most comfortable experience, request one of 54 rooms with a private bath -- the other rooms have shared bathrooms. The hotel's location in the village of Wawona, which is near the southern entrance to the national park, offers a less busy setting than Yosemite Valley, but one with its own attractions, such as the nearby Mariposa Grove of giant sequoias and a historic golf course. An absence of televisions and telephones from guest rooms adds to the peaceful atmosphere.
Yosemite Lodge at the Falls
The 249-room Yosemite Lodge at the Falls offers an unmatched position next to Yosemite Falls, the highest waterfall in North America. Guests have a choice of standard rooms, lodge rooms that open onto a patio or balcony, and large family rooms that accommodate up to six. The on-site Mountain Room Restaurant specializes in California cuisine and has a full bar. The adjacent Mountain Room Lodge offers drinks and snacks in a cozy setting, while the food court and coffee corner are more casual alternatives. Other hotel facilities include complimentary wireless Internet, a seasonal outdoor swimming pool and a tours and activities desk.
Tenaya Lodge at Yosemite
Although Tenaya Lodge at Yosemite is not located in Yosemite National Park, it is operated by DNC Parks and Resorts as a luxurious mountain resort for park visitors. The lodge is located at the southern park entrance and surrounded by evergreen forest. The full-service resort, which was awarded four diamonds by AAA for the 19th consecutive year in 2010, hosts a 10,000-square-foot spa; a state-of-the-art fitness center with indoor and outdoor pools, steam rooms and saunas; and an open-air ice rink during winter. Every guest room features elegant, nature-inspired decor, plush down bedding and a video game system; some feature a private balcony or patio. The premier accommodations are cottage rooms, which are set in the resort grounds and include fireplaces and balconies.